Seafood udon noodle stir fry
Seafood udon noodle stir fry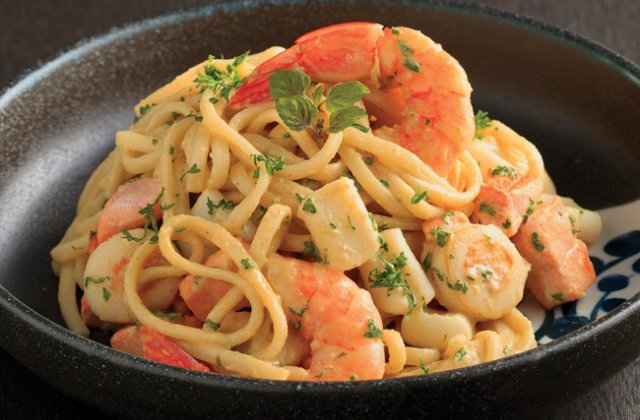 We love this seafood stir fry from our friends at Oriental Merchant.
Ingredients (serves: 4-6)
400g mixed seafood
2 tbsp oil
2 cloves garlic, crushed
2 tsp S&B wasabi paste
2 lemons, zested and juiced
1 red chilli
½ cup parsley
¼ cup sake or white wine
½ tbsp miso
1 packet Hakubaku organic udon noodles, prepare as per packet instructions
Lemon wedges to serve
Method
Heat oil in a non-stick pan over a medium heat and sauté garlic and seafood two minutes.
Stir through the wasabi, lemon zest and juice, chilli, parsley, sake and miso. Bring to the boil, stirring.
Toss through tossed noodles and heat through.
Serve hot garnished with Japanese chilli pepper seasoning and a wedge of lemon.
Note: A mixture of fish and seafood is delicious in this dish.
Note: Longevity noodles get their name from their long lengths. The longer the noodle, the longer the wish you bestow upon your guests for a long and healthy life.
Recipe from Oriental Merchant
Browse more dinner ideas or connect with us on Pinterest!