Seafood and snowpea tagliatelle
Seafood and snowpea tagliatelle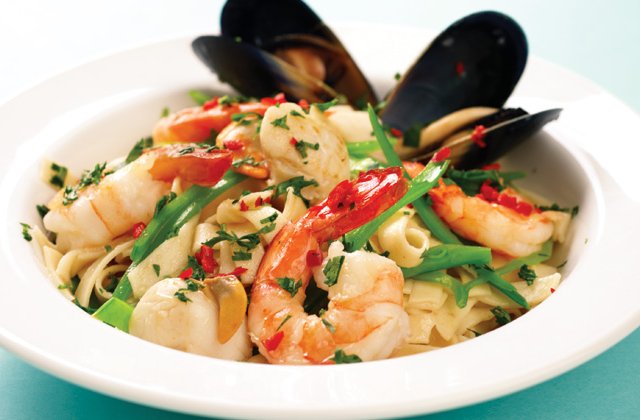 A tasty pasta dish with prawns, scallops and mussels.
Ingredients (serves 2)
¼ red onion, sliced
1 tbs garlic, crushed
1 tsp olive oil
4 raw prawn cutlets
4 raw scallops
4 raw mussels in shells
100g snowpea sprouts
½ tsp finely diced red chilli, deseeded (optional)
1 tsp fresh flat leaf parsley, chopped
2 cups cooked tagliatelle
Method
Heat a saucepan with water on moderate heat and cook the pasta.
Heat a frypan on moderate heat and add the oil and onion and cook until transparent. Add the prawns, scallops and mussels and cook for about one minute.
Add the pasta over the top of the seafood and carefully combine. Finally, add the snowpea sprouts and garlic and stir through for a further minute before serving.
Add the chopped parsley and chilli and serve immediately.
Browse more pasta recipes!