Lola Berry's crispy salmon on a bed of quinoa & greens
Lola Berry's crispy salmon on a bed of quinoa & greens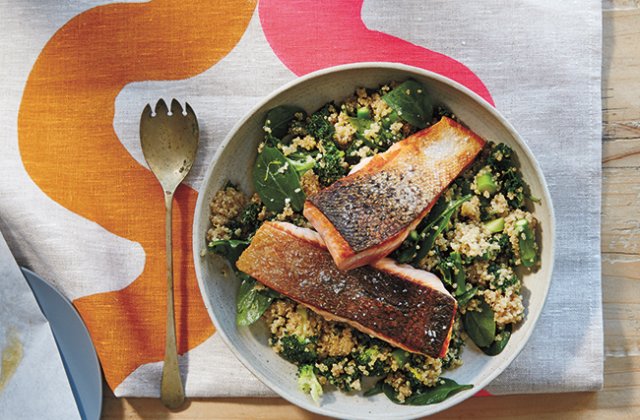 This delicious crispy salmon recipe is sure to be a winner around the table! Create this dish and share it on Instagram to win a copy of Lola Berry's new book.
Ingredients (serves 2)
2 tbsp coconut oil
1 cup quinoa, rinsed
1 cup roughly chopped kale
¼ cup chopped broccoli
100 g asparagus (about ½ bunch), trimmed and cut into 2–3 cm pieces
Handful of baby spinach
2 x 150 g salmon fillets, bones removed, skin on
1 tbsp extra-virgin olive oil
Grated zest and juice of 1 lemon
Salt flakes and freshly ground black pepper
Method
Bring 2 cups of water to the boil in a saucepan, then pop in a tablespoon of the coconut oil and the quinoa. Simmer for 15 minutes, then add the kale and broccoli and cook for another 5 minutes, until the quinoa is cooked (its little 'tails' will pop out and it will triple in size) and the broccoli is nice and bright. Pop in the asparagus and cook for another 2 minutes, then turn the heat off, stir in the baby spinach and set aside.
Heat the remaining coconut oil in a large frying pan over a medium heat. Place both of the salmon fillets in the pan, skin-side down, and cook for 3 minutes, or until the skin is nice and crispy. Flip and cook the other side for 1 minute if you like your salmon a little rare, or for 2 minutes if you prefer it cooked through.
To serve, add the olive oil, lemon zest and juice to the greens and quinoa in the pan, season and toss together to dress. Divide the greens and quinoa between two plates, pop the fish on top and enjoy! Or, serve it all in one dish and share with a mate or date.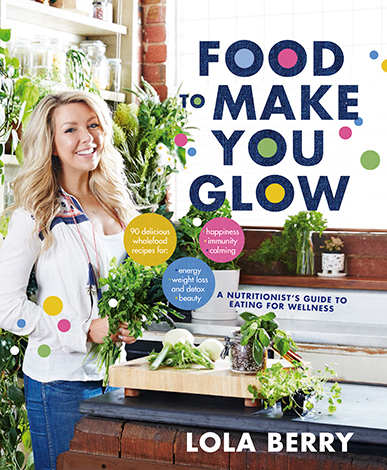 These recipes are a taste of Food to Make You Glow by Lola Berry, published by Plum. Available now, $39.99