Pumpkin and chickpea tagine
Pumpkin and chickpea tagine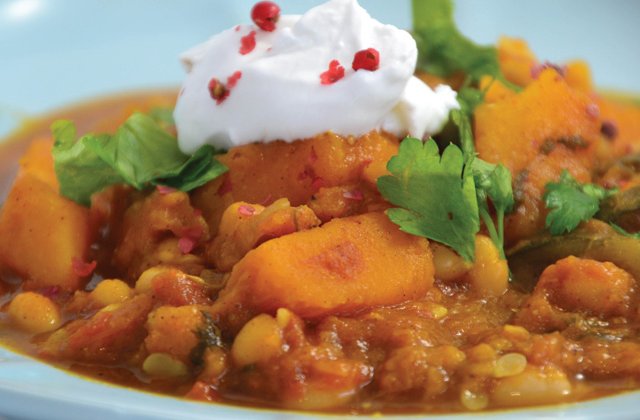 Adele from Vegie Head shares her simple recipes
Ingredients (serves 4)
1 1/2 cups of chickpeas, soaked overnight and boiled, or canned - drained and rinsed
1 tbsp coconut oil
1 large yellow onion, sliced into rings
2 cloves garlic, minced
1 tsp cinnamon
1 tsp turmeric
fresh coriander
1 tsp sweet paprika
1 tsp cumin
4 cups pumpkin, diced
2 cups tomatoes, diced
1 cup water
1 tbsp vegan sour cream (optional)
Method
Heat oil in your tagine (or large pot) over a medium heat
Add onion rings and garlic and sauté until soft, for approximately 5 minutes.
Add cinnamon, turmeric, paprika and cumin, and stir to release fragrances.
Pour in tomatoes, water and chickpeas (if you are using a small tagine, you may need to halve the tomatoes and water and add once reduced).
With the lid on, bring to a gentle boil, then stir, replace lid, and allow to simmer for 15 minutes. Check regularly and stir gently, adding more water as needed, 1 tablespoon at a time.
Add pumpkin and cook for a further 15 to 20 minutes, stirring gently.
Serve with fresh coriander, vegan sour cream and cracked pepper to taste.
Find more of Adele's recipes at vegiehead.com or browse more raw food ideas.