Chickpea, lemon and basil pasta soup (vegan)
Chickpea, lemon and basil pasta soup (vegan)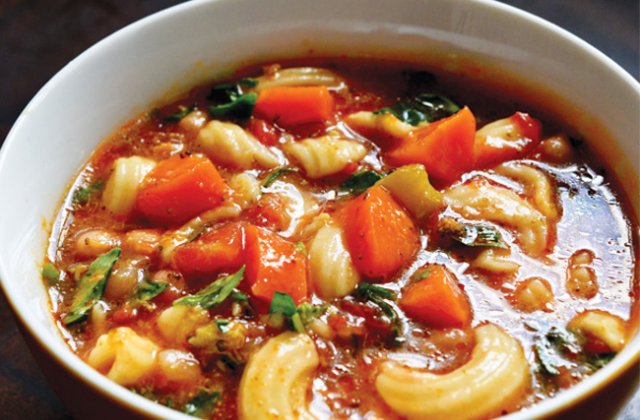 Healthy soup ideas from Adele at Vegie Head.
Ingredients
1 tbsp coconut oil
1 red onion, diced
2 cloves garlic, minced
2 carrots, diced
1 x 400g can chickpeas, 
drained and rinsed
1 400g can chopped tomatoes
2 whole tomatoes, chopped
3-4 cups of water
1 cup dried pasta shells 
or macaroni
Salt and pepper to taste
Juice from two lemons
1 cup loosely packed
basil, torn
Method
Heat the coconut oil over a medium heat and sauté the onions and garlic for five to six minutes until cooked and fragrant.
Add carrots, chickpeas, canned and fresh tomatoes, water and pasta shells along with some salt; bring to a gentle simmer and cook over a low-medium heat for four hours. Alternatively, you can use a standard pot and boil, then lower the heat and cook for 30 minutes or until carrots 
are tender.
Add a touch more salt, if needed, then the pepper, lemon juice and torn basil.
Serve immediately.
Will last in the fridge for four to five days, and may freeze for up to one month.