Chocolate, cinnamon and macadamia pudding (vegan)
Chocolate, cinnamon and macadamia pudding (vegan)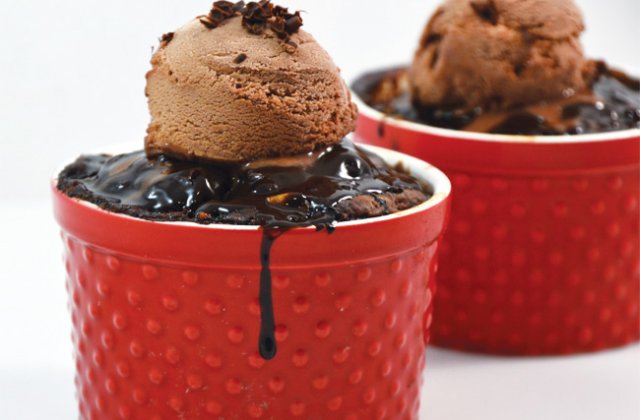 Enjoy these guilt-free chocolate puddings from Adele at Vegie Head.
MAKES: Individual puddings or 1 large pudding (depending on size of ramekins)
Ingredients (serves 4-6)
1 cup brown rice flour
½ cup coconut flour (or 1½ cups plain flour)
¼ cup raw cacao powder
½ cup raw coconut sugar
1 tsp ground Dutch cinnamon
½ cup coconut oil, melted
1 cup almond milk
¼ cup finely chopped macadamia nuts
Sauce
¼ cup raw coconut sugar
½ cup raw cacao powder
1½ cup boiling water
METHOD
Preheat oven to 180ºC.
In a large bowl, sift in flour/s, cacao and cinnamon, and stir in coconut sugar.
Add melted oil and almond milk and stir to combine – do not over-mix.
Fold through macadamia nuts gently; the mixture will seem quite 'doughy', and spoon into ramekins or a large ovenproof dish.
In a heatproof jug, whisk together the sauce ingredients and pour gently (over the back of a spoon) onto puddings.
Bake for 20 minutes (ramekins) or 35 minutes (large dish).
Serve immediately with vegan chocolate ice cream and grate some chocolate on the top.
NEXT: Hazelnut chocolate tart (vegan)>>
Recipe from Adele at Vegiehead.com