Raw chocolate mousse with berry layers
Raw chocolate mousse with berry layers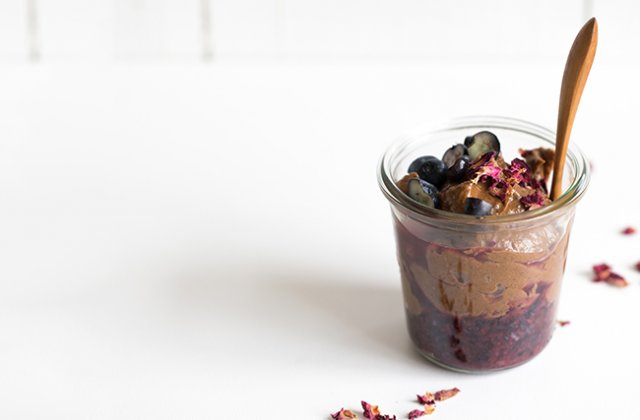 We can't get enough of Nadia Felsch's yummy raw chocolate mousse! Find the recipe below.
Ingredients (serves 2)
½ cup blueberries
5 medjool dates, pitted
1 medium ripe avocado, flesh only
½ cup milk
2½ tablespoons raw cacao powder
½–1 tbsp honey (to taste)
1 tsp ground cinnamon powder
½ tsp vanilla powder (or 1 tsp quality vanilla extract)
Fresh blueberries to serve
Method
Add blueberries to a small food processor and process for 30 seconds or until pureed. Scrape puree into a separate bowl and set aside. Wash and dry processor for the next step.
Add all remaining ingredients to clean processor and process for a minute or until smooth and creamy. Store in the fridge or serve immediately by dolloping layers of mouse with layers of blueberry puree and fresh blueberries.
You can use frozen berries for this recipe, though thaw before using. For a vegan option, use nut milk and maple syrup.
Recipes and food photography: Nadia Felsch.