Sut luche (rice pudding)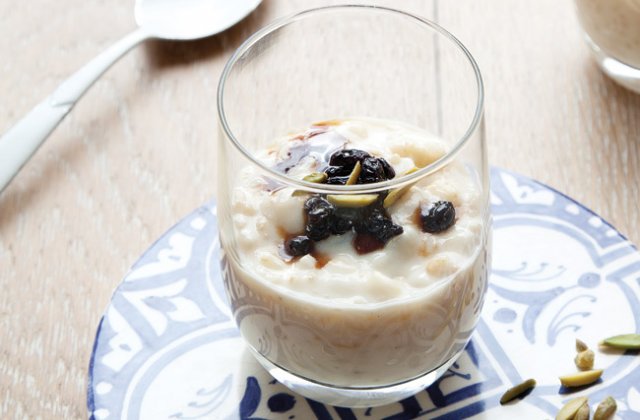 Looking for a sweet treat? We love this Sut luche (rice pudding) from Kenko Kitchen.
Ingredients (serves 8)
1.5L plant-based or full-cream milk
1.5L water
1 ½ cups brown rice
1⁄3 cup stevia or xylitol
Pinch salt
1 tbsp organic cornflour, optional
Topping
4 tbsp currants
1 tbsp rice malt syrup
2 tbsp pomegranate molasses
To serve

Method

In a large saucepan, add in the milk, water and brown rice. Bring to the boil then reduce the heat down to low and allow to simmer for 20 minutes. Add in the sweetener and salt and leave to simmer for a further 15 minutes, stirring every few minutes to ensure the bottom does not burn.
Add in the cornflour (this is optional), then cover and heat until thickened and rice has softened.
Place rice pudding into ramekins in the fridge to cool.
To make the topping, simply place the currants, rice malt syrup and pomegranate molasses into a small fry pan. Cook for three minutes or until the sauce begins to thicken.
To serve, remove cold rice pudding from fridge, top with the currants, a sprinkle of cinnamon and slivered pistachios.

Recipe from Kate Bradley, images from Eli Watson.
NEXT: Quinoa pudding