Chocolate peanut butter cheesecake cups
Chocolate peanut butter cheesecake cups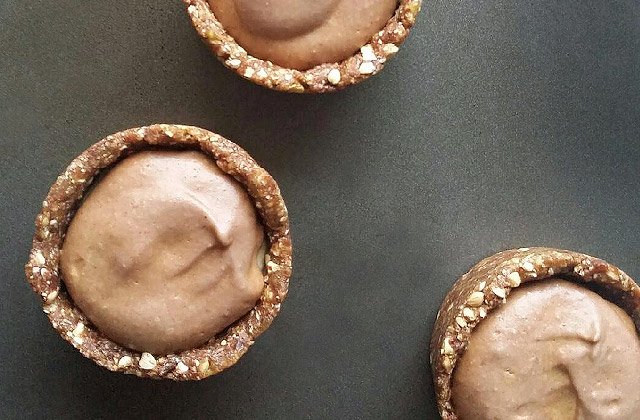 Looking for extra special dessert ideas? These raw chocolate peanut butter cups are to die for.
Ingredients
Crust
2 cups almonds
4–6 dates
½ cup cacao powder
2 tbsp maple syrup
2 tbsp coconut oil, melted
Pinch sea salt
Filling
2 cups raw cashews, soaked for at least 2 hours
¼ cup coconut oil
¼ cup maple syrup
½ tbsp vanilla paste
1 tbsp peanut butter
Pinch salt
2–4 tbsp almond milk
½ cup cacao powder
1 cup frozen berries
Method
For the crust, place almonds into a blender and process until it resembles chunky crumbs. Add the remaining crust ingredients and process until just coming together. Line a 6-hole cupcake tin with patty pans or grease with coconut oil. Divide crust mix evenly between each and press into moulds to create mini cups.
For the filling, place all ingredients except almond milk, cacao and raspberries into a high-speed blender and process until smooth and creamy. Add milk as required to loosen the mix, and process until silky. Remove cupcake tin from freezer and pour half of this mixture into each cup. Return to freezer to set.
Meanwhile, add cacao powder and to the remaining mix and blend until combined. Once set, remove tin from freezer, press 2 to 3 raspberries into the peanut butter layer of each mould, then pour over the chocolate cream. Return to freezer. This will take at least 2 hours to set properly. Remove from freezer half an hour before serving to thaw.