Basa & cashew stir-fry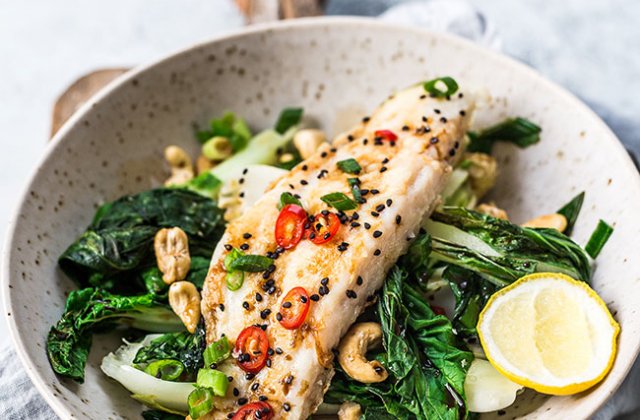 A classic stir-fry is a super simple, one-pan situation that is convenient after a long day or week – no chef skills required. Minimal prep and cooking time, throw this together when you need something tasty in a flash!
Ingredients
2 tsp sesame oil
130 g basa fillet
2 bok choi, leaves separated
½ fresh red chilli, sliced (plus extra to serve)
¼ cup cashews
½ lemon
½ tbsp tamari or soy sauce
Black sesame seeds, to garnish
Method
In a frying pan or wok over a medium heat, add a teaspoon of the sesame oil and add the fish, cooking for 5 to 8 minutes until cooked through.
Remove the fish from the pan and set aside.
Now add the remaining oil, bok choi, red chilli and cashews.
Sauté for 3 to 5 minutes, until the greens have started to wilt but are still firm.
Squeeze over the lemon juice and soy sauce, then toss and remove from the heat.
Add the greens to a bowl and top with the fish.
Finish with a sprinkle of black sesame seeds and fresh chilli.
Recipe by Sally O'Neil.