One-pan Japanese-inspired salmon
One-pan Japanese-inspired salmon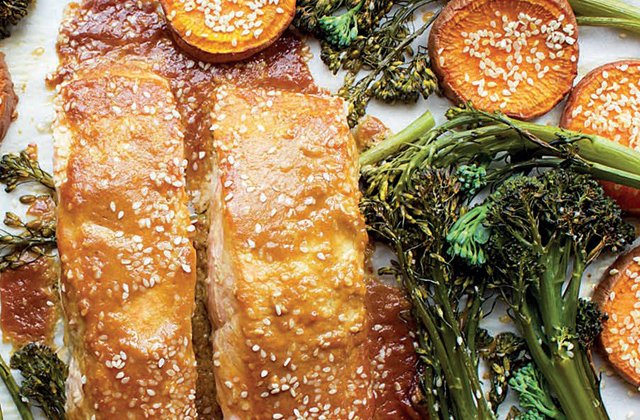 You will love this Japanese-inspired salmon recipe from Jessica Sepel. It is the most complete nutritional – and tasty meal – you'll make all week!
Serves: 2
1 sweet potato
1 tsp coconut oil (or spray)
1 tbsp sesame seeds
1 tsp sea salt
1 bunch broccolini
2 salmon fillets, organic
Marinade
1 tablespoon sesame oil
¼ cup tamari sauce
½ tbsp dijon mustard
2 tbsp sesame seeds
1 tbsp honey (optional)
Preheat oven to 200° (180° if fan-forced).
Chop sweet potato into rounds (1–2cm in thickness).
Arrange on a lined baking tray, leaving room for salmon and broccolini, and drizzle with coconut oil or spray. Sprinkle sesame seeds and sea salt. Add to oven for 25 minutes.
Meanwhile, make the marinade by combining all marinade ingredients in a bowl and whisking until combined. Remove semi-cooked sweet potato from oven and add broccolini to tray. Spray broccolini with coconut oil and another sprinkle of rock salt.
Place two salmon fillets in the middle of the baking tray, surrounded by broccolini and sweet potato, and drizzle over marinade. Add to oven for 12–15 minutes.
Remove cooked salmon, broccolini and sweet potato from oven. Serve with brown rice, if desired.