Grilled marron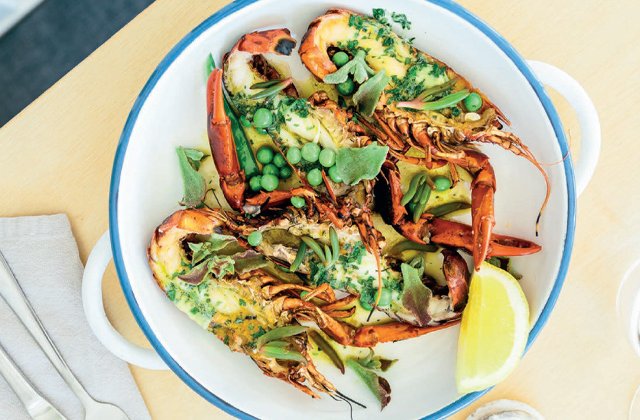 This delicious grilled marron is the perfect dish for a tasty summer lunch.
Ingredients:
6 x 150g live marron
Salt
Extra virgin olive oil
For the herb butter
250g cultured butter, soft atroom temperature
1 tsp salt
*2 tsp Garum di Tonno
1 bunch French tarragon, finely chopped
1 bunch chervil, finely chopped
1 eschalot, finely chopped
½ bunch parsley, finely chopped
1 clove garlic, minced
Grated zest from 1 lemon
Combine all ingredients in a bowl and whip using a wooden spoon. Once combined place onto baking paper and form into a log, wrap in cling film, refrigerate until set.
To serve
1 bunch plain rocket, washed and chopped
6 lemon wedges herb butter cut into 12 thin rounds
Cut live marron in half from top to bottom.
Heat barbecue until medium hot, brush marron flesh with a little oil and some salt and grill on flesh side for 2 mins, avoiding any flames onto the flesh.
Turn marron over and continue to cook for another 3 mins, transfer to a tray flesh side up, and place 2 slices butter onto each marron. Heat an electric grill. Place rocket leaves onto a large platter or 6 main plates. Place marron under grill until half melted and place 2 marron halves onto the rocket and serve with lemon wedges.
* Garum di Tonno is an Italian fermented fish sauce available online from lario.com.au