Fish and triple-cooked chips with garlic aioli
Fish and triple-cooked chips with garlic aioli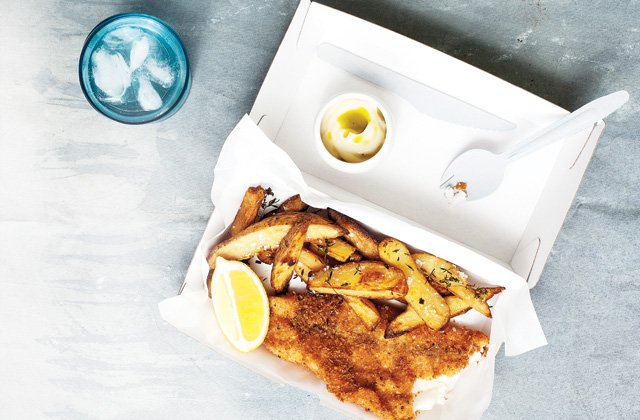 A summer feast that's fresh, tasty and free from gluten, dairy and refined sugar, we promise your guests will be surprised.
Ingredients (serves 4)
For the chips
• 1 kg potatoes
• 1 tbsp sea salt
• 4 sprigs thyme
• Rice bran or coconut oil for frying
For the fish
• 4 pieces white fish
• 1 cup buckwheat flour
• 1 egg (beaten with a fork)
• 1 cup gluten-free bread crumbs
• Big pinch salt
• Pinch cracked black pepper
• Rice bran or coconut oil for frying
• Lemon wedges, to serve
For the garlic aioli
• ½ cup mayonnaise
• 2 garlic cloves (crushed)
• 1 tbsp hemp oil
Method
To begin, wash potatoes and cut off any blemishes. Cut into fat chip/wedge shapes and place in a steamer for 10 minutes or until just beginning to soften.
Heat oil in a shallow pan. To test it is hot enough, drop a small chip in. If it bubbles immediately, oil is at the correct temperature. Repeat with all the chips and fry until lightly golden. Remove and place onto baking paper to remove any excess oil. Transfer to a lined baking tray, coat with salt and thyme and place in the oven for 20 minutes or until cooked through.
While chips are cooking, mix bread crumbs, salt and pepper together in a bowl for the fish. Coat fish in buckwheat flour, dip into the beaten egg and cover with the bread crumbs.
Place fish into the shallow fryer for 5 minutes on each side or until golden and cooked through.
To make the aioli simply mix ingredients together in a bowl and top with hemp oil.
Remove chips from oven and divide onto four plates alongside the fish.
Recipes and images by Kate Bradley.
NEXT: Eye off more seafood recipes and try the Red quinoa, beetroot and blood orange salad for the perfect accompaniament.