Farro porridge with red grapes and pomegranate
Farro porridge with red grapes and pomegranate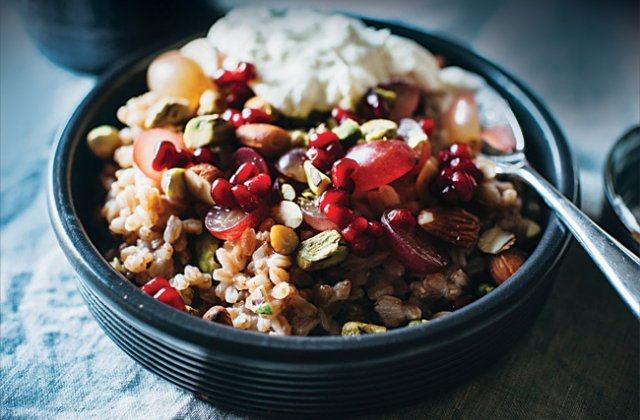 This delicious porridge is made with delicious fresh pomegranate and grapes, but for a seasonal twist select your own fruity flavour combinations!
Ingredients (serves 2)
100 g farro
300 ml whole milk
2–3 tsp golden caster sugar
½ tsp ground cinnamon
To serve

Method
Cook the farro in water until tender. Drain. Cooking time can vary from brand to brand so cook according to instructions.

Place the cooked farro in a heavy-based saucepan with the milk, sugar and ground cinnamon. Simmer for 15 minutes, stirring occasionally.

Serve topped with natural yoghurt, red grapes, pomegranate seeds and the assortment of nuts and seeds.

Tip: You can cook the farro ahead of time and store in the fridge, ready for breakfast, lunch or dinner.

Recipe and images by Nellie Kerrison
NEXT: try a Green smoothie bowl.