Christmas fruit mince truffles
Christmas fruit mince truffles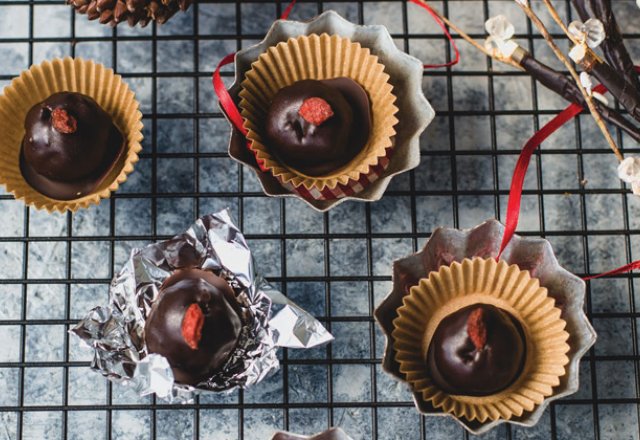 These delicious Christmas mince truffles will be a hit this holiday season.
While we use dark chocolate in this recipe, you can use refined sugar-free dark chocolate (sweetened with coconut sugar or nectar), or make your own shell using 20 grams of melted cacao butter, a tablespoon cacao powder, pinch vanilla powder and 10 stevia drops mixed together, which will stay set at room temperature.
Fruit mince filling
½ cup sultanas
3 medjool dates, pitted
2 tsp dark rum or 1 tsp natural rum essence
½ tsp vanilla essence
¼ tsp ground cinnamon
¼ tsp ginger powder
Pinch ground cloves
Dark chocolate coating
25 g dark (70 % cocoa) chocolate, see note for a sugar-free version
10 goji berries
Place all fruit mince filling ingredients in a small bowl of a food processor and process until the filling resembles playdough consistency. Scoop out about ½ tablespoon of the mixture and roll into balls.
Place in the fridge.