Prawn and scallop lemongrass skewers
Prawn and scallop lemongrass skewers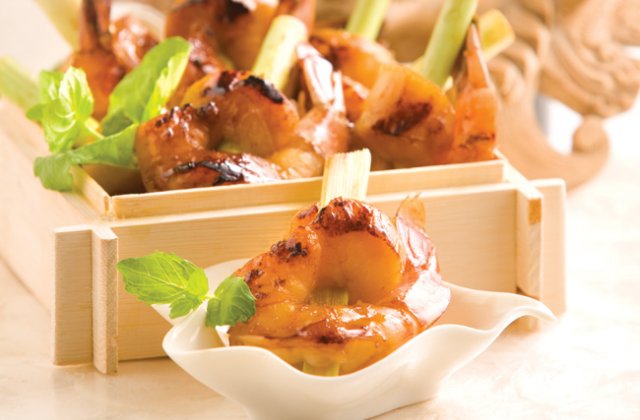 Grill these sweet chilli seafood skewers on the barbecue.
Ingredients (serves 4)
12 large prawns, shelled and deveined leaving tails on
12 large scallops
3 tbsp sweet chilli sauce
3 tbsp light soy sauce
3 tbsp ABC sweet soy sauce
4 stalks lemongrass, julienned, 25 cm lengths, pointed end (to skewer)
1 tbsp honey
4 mint sprigs
Method
In a bowl, mix sweet chilli sauce, soy sauce and ABC sweet soy sauce. Add prawns and scallops and cover, allowing to marinade for 15 minutes or longer.
Thread the prawns and scallops onto the lemongrass skewers, six pieces to one stick.
Grill the skewered seafood for six minutes under hot grill or BBQ turning often and basting with remaining marinade.
Garnish with sprigs of mint and serve.
NEXT: Browse more recipes with prawns>>