Orange oysters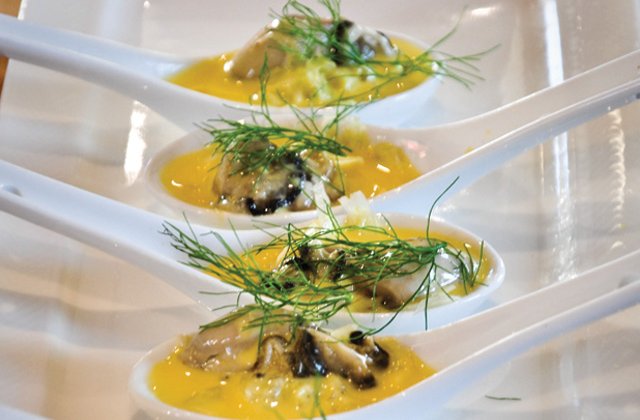 Hosting a dinner party? Orange oysters are the perfect appetiser.
Ingredients (Recipe for one dozen oysters)
¼ onion, finely sliced
Oyster juice
6 tbsp orange juice
50 ml white wine
½ organic orange, finely grated skin
Pinch of saffron
2 star anise
6 tbsp cream
Fennel shavings
Fennel green for the garnish
Method
Open the oysters, clean the shell and place a fennel shaving into each shell.
Place wine, saffron, orange juice, skin shallots, oyster juice and star anise into a saucepan and reduce to a quarter, reduce the heat and quickly whisk the cream into the reduction and strain.
Blend the sauce with a stick blender and pour it over the oysters and garnish with the fennel green and grated orange skin.
Recipe from Dorota Trupp; Photo credit: Trupps' Cooking School