Roll'd pork & prawn rice paper rolls
Roll'd pork & prawn rice paper rolls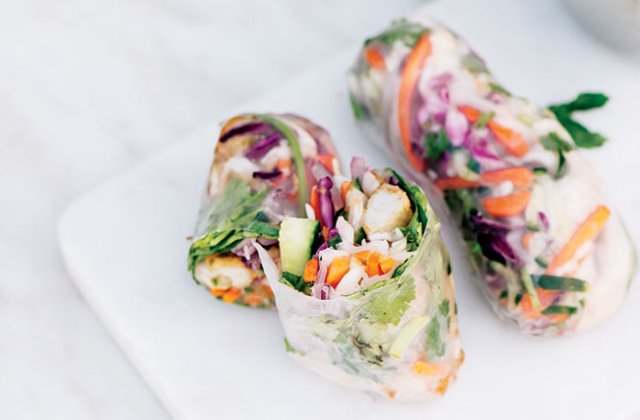 Looking for quick and easy lunch time ideas? These rice paper rolls are great on the go or as an appetiser.
Ingredients (makes 20)
100 g dried vermicelli noodles
20 sheets of 22 cm round rice paper
10 cooked small tiger prawns, peeled and sliced in half
1 cup firmly packed shredded iceberg lettuce
1 continental cucumber cut into approx. 8cm sticks
120 g cooked pork neck (loin or belly is ok), finely sliced
1 bunch coriander
1 bunch mint
Method
Cook the dried vermicelli noodles to packet instructions. Drain and cool.
To assemble, dip 1 sheet of rice paper into a bowl of warm (not hot) water and lay flat on a plate. This will soften as you lay the ingredients into the roll.
In the middle of the rice paper, place 2 pieces of prawn in a horizontal line approximately 4 cm from the top. Below the prawns add some vermicelli, lettuce, cucumber and pork, then lay some mint and coriander on top of the prawn.
To form the roll, first fold the bottom of the rice paper up and over the centre ingredients.
Then fold the sides into the centre just over the filling, and then roll again from bottom to top to form a tight roll
Serve with traditional nuoc mam (fish sauce) or hoi sin dipping sauce.
Tip: Prawn and pork can be substituted for any other protein of choice.
Photography by Two Loves Studio.
NEXT: Try these veggie handrolls for more easy lunch ideas.