Grilled octopus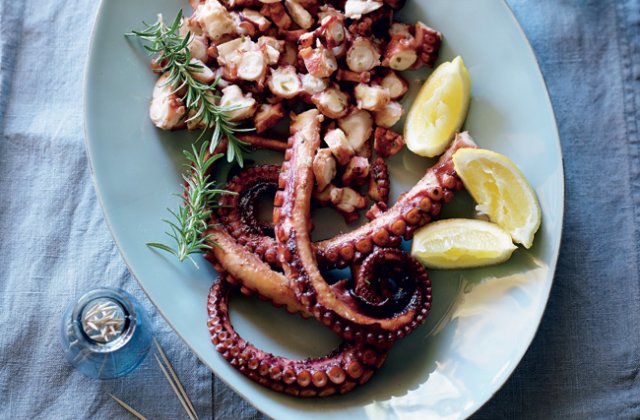 Grilled octopus can be made as a quick snack or finger food and is a common meze in Greek households.
It is often served with ouzo at tavernas in Greece, where alcohol is rarely served without food. Octopus from a seafood vendor has usually been pounded on rocks by fishermen and hung up to dry. Octopus tastes best when cooked over charcoal.
INGREDIENTS
2 tbsp olive oil
2 tbsp red or white wine vinegar
Juice of 1 lemon
1 tsp dried oregano
2–3 octopus tentacles or 250 g small whole octopus, washed and dried
METHOD
Preheat a barbecue or chargrill pan.
Prepare sauce by mixing olive oil with vinegar, lemon juice and oregano.
Grill octopus for 15 minutes or until you can pierce it easily with a fork.
Place cooked octopus on a serving plate, cut into two cm pieces and drizzle over sauce.
Browse more Mediterranean recipes or connect with us on Facebook!
Recipe from The Mediterranean Diet by Dr Catherine Itsiopoulos, $34.99