Fish and rice balls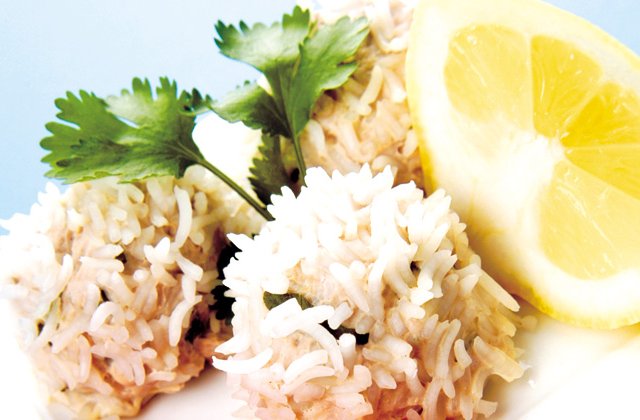 Combine basmati rice, white fish, spring onions, coriander and ginger.
Ingredients (serves 8)
1 cup of basmati rice uncooked
2 cups of water or chicken stock
400g boneless white fish fillets (variation is to add 100g of king prawn)
1 small can of water chestnuts, drained and chopped
½ cup sliced spring onions
1 cup chopped fresh coriander
1 teaspoon chopped fresh ginger
1 tablespoon of fish sauce
2 egg whites
Method
Soak rice in water or stock for at least two hours. Drain and tip into a shallow bowl. Place fish in a food processor and mince. Add remaining ingredients and mix well.
Using wet hands, take out a tablespoon of the fish mixture and roll it in the rice. Continue in this way – mixture should make 16-to-18 balls. Place the fish balls on lightly oiled greaseproof paper in a steamer (bamboo or stainless steel – or use a metal rack or tiny non-stick muffin pans on a rack in a frying pan).
Place water in base of steamer, cover and steam fish balls for 15 minutes.