Savoury breakfast 'muffins'
Savoury breakfast 'muffins'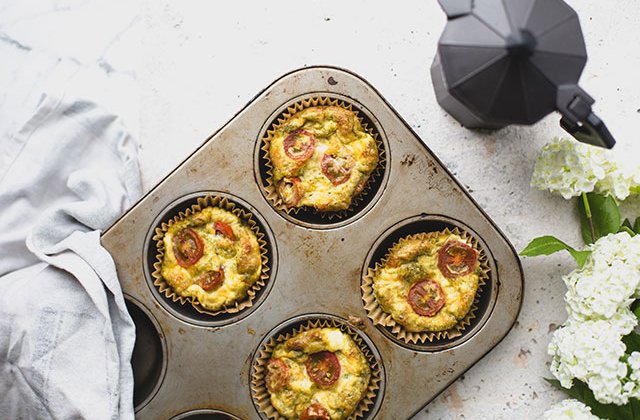 These are a perfect on-the-go breakfast – make them on Sunday night for the working week, or prep a tray on Friday night for a busy weekend breakfast for the kids.
Ingredients (Makes 4 pies or 6 muffins)

4 eggs
1 tbsp basil pesto
1 rasher bacon, chopped finely
¼ cup frozen peas
100 g feta, cut into small cubes
6 cherry tomatoes, halved
Method
Preheat the oven to 180°C. Line a pie or muffin tray with muffin papers.
In a jug whisk together the eggs and pesto until fluffy. Add bacon, peas and feta. Divide the mixture between the muffin cases. Top each with 2 to 3 cherry tomato halves.
Bake for 20 minutes or until muffins are set.
Remove from the oven and serve or allow to cool on a cooling rack completely before storing in an airtight container in the fridge for up to 4 days.