Apricot and olive oil cake (torta all'olio e albicocche)
Apricot and olive oil cake (torta all'olio e albicocche)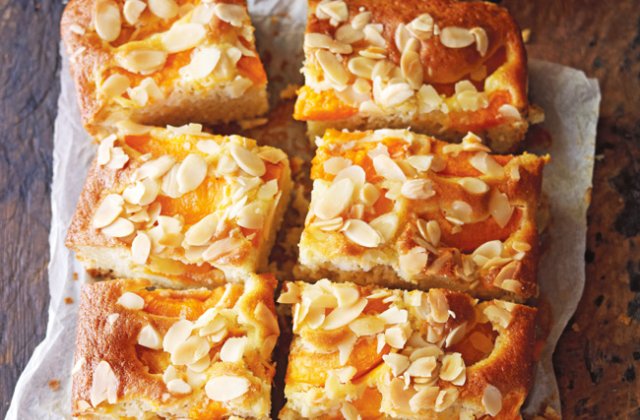 Looking for a wow-factor dessert? Try this apricot and olive oil cake from Silvia Colloca.
Ingredients (serves 8)
170 g caster sugar
230 ml milk
Finely-grated zest of 1 lemon
1 vanilla bean, split and seeds scraped
100 ml extra virgin olive oil
3 tsp Mistrà or Sambuca (optional)
2 eggs, lightly beaten
11⁄3 cups (200 g) self-raising flour
½ tsp bicarbonate of soda
7–8 apricots, cut into quarters flaked almonds, for sprinkling fresh ricotta and honey, to serve (optional)
Method
Preheat your oven to 180°C (160°C fan-forced). Grease and flour a 21cm rectangular or square cake tin (or line it with baking paper).
Place sugar, milk and lemon zest in a medium saucepan over low heat and cook for 3–4 minutes, stirring regularly, until the sugar has dissolved. Do not let the milk come to the boil.Turn off the heat and stir in vanilla seeds, olive oil and liqueur (if using), then let the mixture cool for 5–10 minutes.
Add the beaten egg, flour and bicarbonate of soda and whisk to form a smooth batter. Pour the batter into the prepared tin and arrange the apricot quarters on top any way you like.
Sprinkle with the flaked almonds and bake for 30–35 minutes or until pale golden and a skewer inserted into the middle of the cake comes out clean. Cool in the tin for a few minutes, then turn out onto a wire rack and cool at room temperature for one hour before cutting. Serve just as it is or with honey-drizzled ricotta.
Recipe from Made In Italy with Silvia Colloca
Love baking? Browse our cake recipe collection for more ideas.