Brown rice and vegetable congee
Brown rice and vegetable congee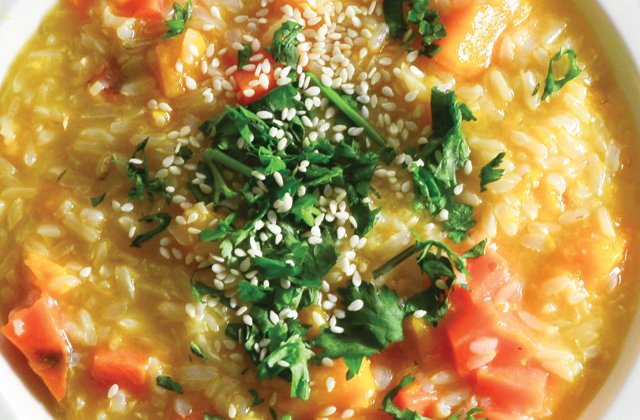 Adele from Vegie Head shares her simple recipes
Ingredients (serves 2)
1 tbsp safflower oil
3 cloves garlic, minced
1 tsp grated ginger
1 tbsp sesame oil
1 tsp mirin
1 tsp rice wine vinegar
1 cup brown rice, rinsed
cups water + 1 cup if needed
1 tsp ground wakame flakes
½ cup pumpkin, diced
½ cup sweet potato, diced
Fresh coriander to serve
Sesame seeds to serve
Method
In a large pot, heat the safflower oil and sauté the minced garlic and grated ginger.
Add the sesame oil, mirin, rice wine vinegar, brown rice, water and wakame flakes.
Bring to the boil, then turn down the heat and allow to simmer for 40 minutes, without letting the water get too low.
Add more water if needed – you want it to have the consistency of a thick soup. Add diced vegetables and simmer for a further 20 minutes or until sweet potato is soft and rice is tender.
Serve with fresh coriander and sesame seeds.
Nutrition info per serve: 218 CALORIES; TOTAL FAT 1.6g; SAT FAT 0.3g
Browse more of Adele's recipe at Vegie Head.