Cashew pesto linguini with nut crumble
Cashew pesto linguini with nut crumble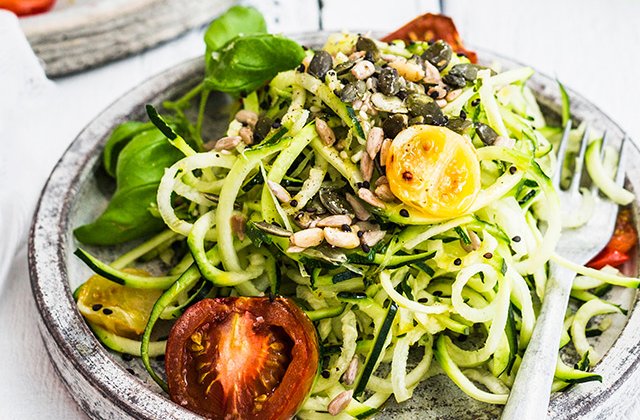 Keep this simple with this delicious raw linguini recipe by Sally O'Neil aka The Fit Foodie.
Ingredients (Serves 2)
Pesto
1 cup fresh basil
½ cup cashews
2 garlic cloves
2 tbsp nutritional yeast (optional)
2 tbsp lemon juice
¼ teaspoon Himalayan salt (or to taste)
¼ cup extra-virgin olive oil
Linguini
4 zucchini
1 tbsp olive oil
1 tbsp lemon juice
Freshly ground black pepper
Crumble
1 tbsp each pepitas, sesame seeds, cashews and pine nuts
Method
Halve the tomatoes and place on a tray in the oven on your lowest setting, or use a dehydrator, to heat through.
Put all the pesto ingredients, apart from the oil, into a food processor and blend until well combined.
Add the oil while the blade is running in a steady stream until your desired consistency is reached.
Set the pesto aside and season to taste with salt and pepper.
Next, grate or spiralise the zucchini and set aside in a bowl.
Add 1 tablespoon olive oil and 1 tablespoon of lemon juice, toss through and season with pepper.
Add a few tablespoons of the pesto and mix well until the zucchini is coated, then serve with the warm tomatoes and a sprinkle of crumble.
Words, recipes and photography: Sally O'Neil (@thefitfoodieblog)
NEXT: Looking for more vegetarian recipes? Try this field mushroom frittata.