Pear & coconut muffins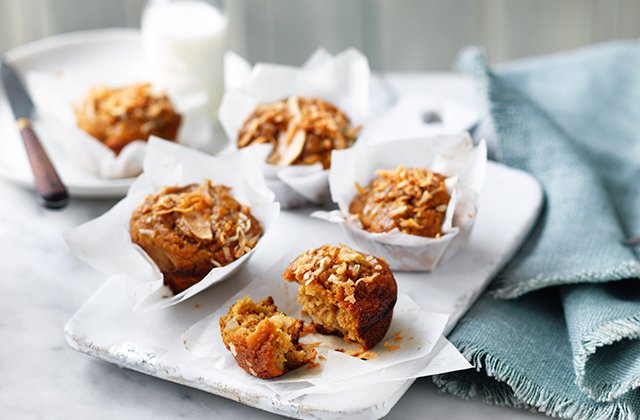 If you love pears, you'll love these delicious pear and coconut muffin recipe.
Ingredients (Makes 12)
½ cup coconut flour
½ cup gluten-free plain flour
1 cup almond meal
½ cup coconut sugar
1 tsp baking powder
½ tsp bicarb soda
¼ cup vegetable oil
⅓ cup almond milk
⅓ cup sparkling apple juice
2 eggs
2 tbsp maple syrup, plus extra to serve
1 medium pear, finely diced
Preheat oven to 180°C and grease a 12-hole muffin tin.
In a large bowl, combine the flours, almond meal, coconut sugar, baking powder and bicarb soda. Set aside
In a separate bowl or jug, whisk together the vegetable oil, almond milk, sparkling apple juice, eggs and maple syrup.
Make a well in the centre of the flour mix. Gradually add your egg mix and stir to combine. Stir through pear and divide evenly between prepared muffin tins. Top with coconut (if using) and bake for 30 minutes. Cover with foil at 20 minutes if they're browning too quickly.
Brush with reserved maple syrup when warm and allow to cool before removing from the tin. Enjoy.
The research and recipes in this feature are part of a marketing project funded by Horticulture Innovation Australia Limited using the Apples and Pears Marketing Levy. For more information, visit the official website for more.