Orzo with salami and semi-dried tomatoes
Orzo with salami and semi-dried tomatoes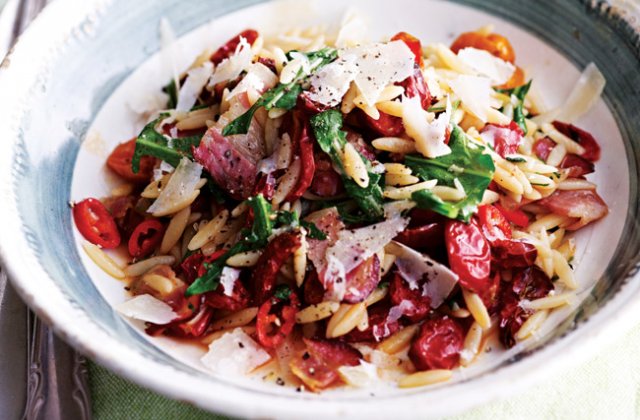 Pasta dishes are wonderful for their simplicity. This recipe may sound gourmet but it's quick and easy enough for a mid-week meal.
Ingredients (serves 4)
400 g orzo, or risoni, pasta
2 tbsp extra-virgin olive oil, plus extra to serve
8 slices salami, cut into strips
1 red chilli
100 g semi-dried tomato
Handful fresh rocket leaves
Sea salt and fresh-cracked black pepper
Shaved parmesan, to serve
Squeeze lemon juice
Method
Bring a large pot of water to the boil. Add pasta, a pinch of salt, and cook as per instructions on the packet. Meanwhile, heat olive oil in a large frying pan over medium-high heat, add salami and fry for 2 to 3 minutes, or until starting to crisp.
Add chilli and fry, stirring continuously, until fragrant – about one minute more. By now the pasta should be almost ready.
Drain and add to the frying pan. Reduce heat to low and drizzle with a little more olive oil. Stir through the semi-dried tomatoes and rocket, and season with salt and pepper.
Remove from heat and serve with shaved parmesan and a squeeze of lemon juice.

NEXT: browse our rice and pasta recipe collection, or try a kale and almond pesto linguine