Sweet potato pasta bake with spinach & pine nuts
Sweet potato pasta bake with spinach & pine nuts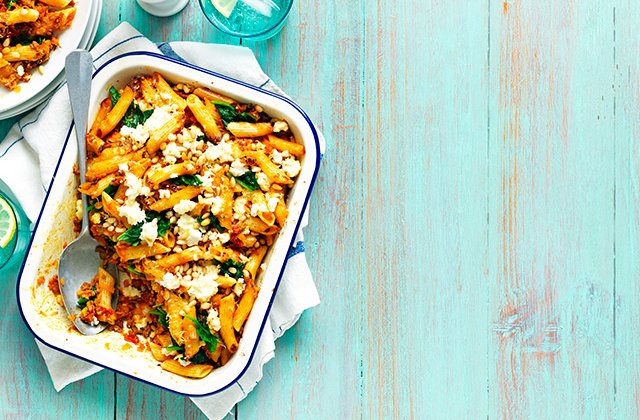 Treat the family with this flavour packed pasta bake.
Ingredients (Serves 6)
350 g penne or other pasta
1 tbsp olive oil
1 small onion, finely chopped
2 garlic cloves, crushed
500 g lean beef mince
400 g sweet potato, peeled and coarsely grated
1 small zucchini, coarsely grated
2 tbsp tomato paste
400 g can diced tomatoes
1 cup salt-reduced beef stock
4 sprigs thyme
50 g baby spinach leaves
100 g ricotta
½ cup (40 g) grated parmesan
2 tbsp pine nuts
Method
Cook pasta in a large pot of salted, boiling water until al dente. Drain well and set aside.
Meanwhile, heat oil in a medium pan on medium-high heat. Cook onion and garlic for 3 to 4 minutes until softened. Add beef and cook until browned, breaking up lumps with a spoon. Add sweet potato and zucchini. Cook for 2 minutes until softened slightly.
Add paste, tomatoes, stock and thyme. Simmer, uncovered for 15 to 20 minutes until thickened slightly. Stir through spinach leaves until wilted. (Meanwhile, preheat oven to 220°C.)
Combine pasta and beef mixture in an 8-cup capacity ovenproof dish. Sprinkle with ricotta, parmesan and pine nuts. Bake for 15 to 20 minutes until golden. Serve hot.
This recipe in this feature is part of a marketing project funded by Horticulture Innovation Australia Limited using the Sweet Potato Marketing Levy. For more information, visit horticulture.com.au.