Sweet potato crisps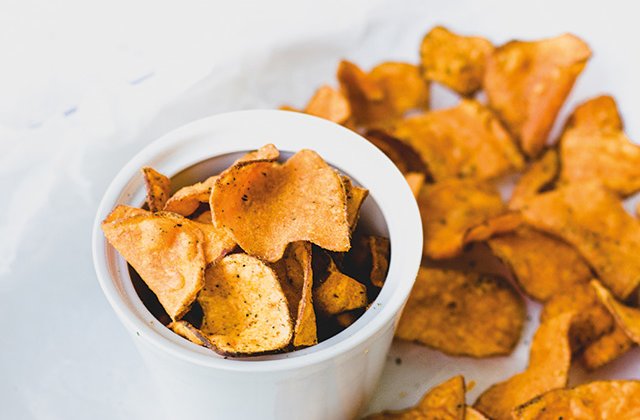 Move over, regular chips. Sweet potato crisps are here!
Spiced with a little salt, cayenne and paprika, they go well with any of the burgers on offer and make for a delicious snacky-style chip. Lightly dried coriander can be found in the herb section of your supermarket or grocer's.
Ingredients
1 medium sweet potato
2 tbsp olive oil
¼ tsp sea salt flakes
¼ tsp cayenne pepper
¼ tsp smoked paprika
¼ tsp lightly dried coriander, ground
Preheat oven to 140°C (120°C fan-forced). Line a wire rack with baking paper.
Method
Using a mandolin slicer or a vegetable peeler, slice into thin rounds or peel the potato into thin ribbons. Place in a bowl, drizzle with olive oil and mix well to coat. Sprinkle with sea salt flakes.
Transfer to the wire rack lined with baking paper and spread in a single layer. Bake for 60 to 70 minutes for the rounds, 30 to 35 minutes for the ribbons. Remove from oven and allow to cool completely for the chips to crisp up and before seasoning with cayenne pepper, paprika and coriander. Store in an airtight container in the pantry for up to 3 days.
Recipe, words and images: Martyna Angell | The Wholesome Cook.