Pumpkin & peas 
in a light coconut curry
Pumpkin & peas 
in a light coconut curry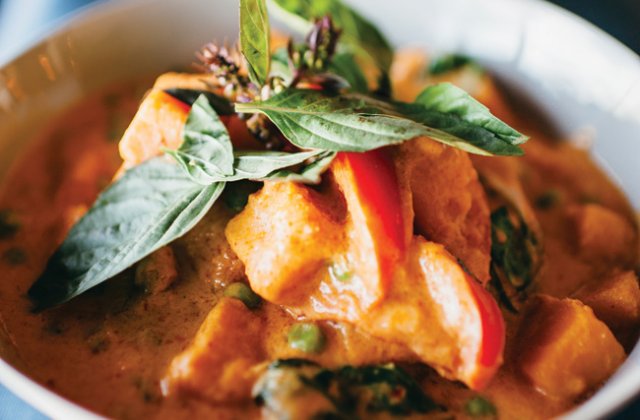 We love this vegetarian curry with pumpkin, spinach and peas. A yummy recipe from Relish Mama.
Ingredients (serves 4-6)
1 x 400 ml can coconut milk
2 tbsp red curry paste
700 g peeled, deseeded pumpkin, cut into 3cm chunks
100g fresh or frozen peas
2 tomatoes, each cut into eighths
100 g baby spinach leaves
1 tsp brown sugar
2 tsp fish sauce
1 tbsp freshly squeezed lime juice
To serve
2 tbsp chopped basil or coriander
Jasmine rice
Method
Heat a wok or large saucepan over a medium heat. Pour in half the coconut milk and allow to simmer for five to 10 minutes, stirring occasionally, until it is reduced and thick. Add the curry paste and cook, stirring for two minutes or until fragrant.
Add the remaining coconut milk and stir to combine. Bring to the boil then add the pumpkin.
Pour in water as needed, so that the pumpkin is barely covered, then return to the boil. Reduce the heat to low and simmer for 15 minutes or until the pumpkin is tender.
Add the peas and tomatoes and simmer for 10 minutes if the peas are fresh and only five minutes if the peas are frozen. Add the baby spinach, sugar, fish sauce and lime juice, and stir until the spinach has wilted. Serve with the basil and steamed rice.
Tip: For extra protein, add cubes of tofu with the pumpkin.