Stir-fried beef & udon noodles
Stir-fried beef & udon noodles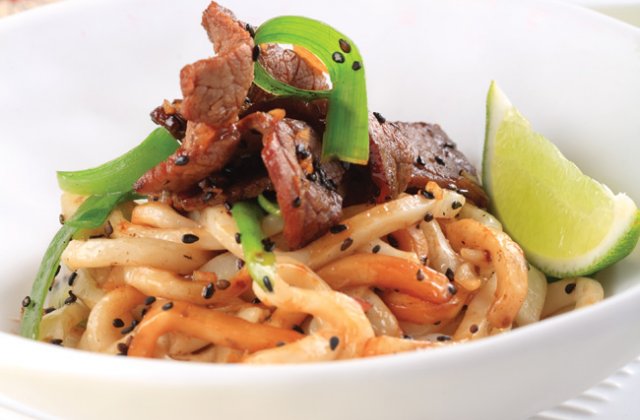 Authentic Chinese recipes from our friends at Oriental Merchant.
Ingredients (serves 4)
500g stir-fry beef strips
1 tbsp sesame oil
½ cup Obento mirin seasoning
½ cup sweet soy sauce
2 tbsp oil
1 clove garlic, finely chopped
1 bunch spring onions, sliced
2 tsp black sesame seeds
270g Hakubaku organic udon noodles (prepare as per packet instructions)
Wedges of lime
Method
Combine beef strips, sesame oil, mirin and sweet soy together in a small bowl and marinate for up to two hours.
Heat a wok over a high heat and add half the oil and the garlic. Stir-fry the beef strips until well browned. Set aside.
Add the remaining oil to the wok and stir-fry the spring onions for one minute.
Drain the udon noodles and add to the wok along with the black sesame seeds. Stir-fry for two minutes.
Return the beef to the wok for three minutes.
Serve hot, garnished with a wedge of lime.
Browse more Chinese recipes>>
Recipe from Oriental Merchant.