Grilled steaks balsamico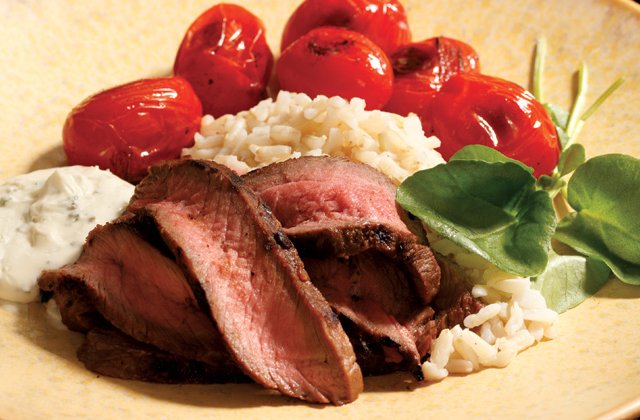 A simple marinade of puréed, dried figs and store-bought balsamic vinaigrette adds intense flavour to steak.
Ingredients (sereves 4)
1⁄3 cup prepared balsamic vinaigrette
2 dried figs, stems trimmed, chopped
450 g organic sirloin steak, fat trimmed
1⁄3 cup herb and garlic creamy cheese spread, such as Boursin
Salt and pepper, to taste
Method
Place vinaigrette and figs in a blender or food processor; process until blended. Place in a large sealable plastic bag with steak, and turn to coat. Marinate in the refrigerator for at least 6 hours or up to 24 hours.
Preheat grill to medium.
Remove the steak from the marinade; discard marinade. Oil the grill rack (see Tip). Grill the steak for four to six minutes per side for medium-rare depending on thickness. Transfer to a clean cutting board. Season with salt and pepper, tent with foil and let rest for five minutes.
Meanwhile, warm cheese in a small saucepan over medium-low heat, stirring often, until melted. Carve the steak into thin slices. Serve each portion with a dollop of the cheese sauce.
Recipe Tips & Notes:
To oil a grill rack: Oil a folded paper towel and use tongs to rub it over the rack. (Do not use cooking spray on a hot grill.)