Kefta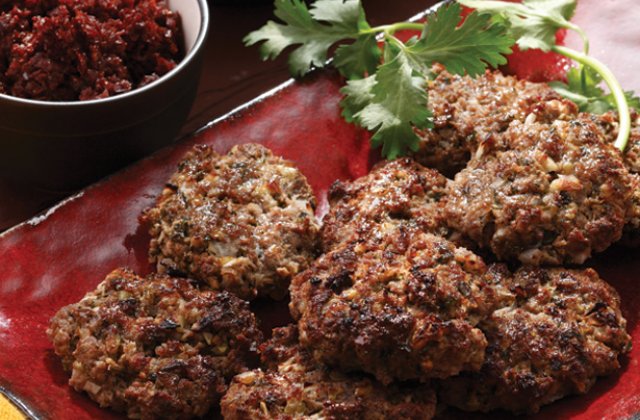 Kefta, seasoned ground meat, is one of Morocco's most popular street foods. Traditionally, kefta is washed down with a glass of sweet mint tea. It's delicious served with ratatouille.
Ingredients (serves 4)
250 g organic ground beef
250 g organic ground lamb
cup lemon juice
1 small onion, quartered
2 cloves garlic, peeled
8 pitted green olives
2 tbsp extra-virgin olive oil
¼ cup chopped fresh coriander
2 tbsp chopped fresh parsley
1 tbsp ground cumin, plus more for serving
Salt and pepper, to taste
Harissa (see Ingredient Note) for serving
Method
Place beef, lamb and lemon juice in a large bowl. Gently combine until incorporated. Marinate in the refrigerator for one hour.
Transfer the meat to a colander and press to squeeze out excess moisture. Place onion, garlic and olives in a food processor and pulse until coarsely chopped. Add to the marinated meat along with oil, coriander, parsley, one tablespoon cumin, salt and pepper. Gently combine until evenly incorporated.
Position rack in upper third of oven; preheat broiler. Line a large rimmed baking sheet with foil and set a wire rack on it.
Using about three tablespoons of the meat mixture for each, form 12 thin patties, about six centimetres wide and two centimetres thick. Place on the wire rack.
Broil the patties until brown and cooked through, eight to 10 minutes. Serve with additional cumin and harissa, if desired.
Recipe Tips & Notes:
Harissa is a fiery Tunisian chilli paste commonly used in North African cooking. Find it at specialty food stores. Harissa in a tube will be much hotter than that in a jar. You can substitute Chinese or Thai chilli-garlic sauce for it.
Recipe by Kitty Morse