Moroccan-style stuffed capsicum
Moroccan-style stuffed capsicum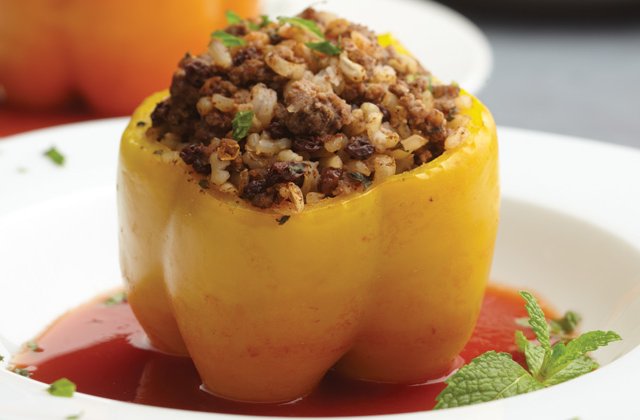 Aromatic savoury-and-sweet stuffed capsicums are a satisfying supper.
Ingredients (serves 4)
1 1⁄3 cups cooked brown rice
4 medium-to-large capsicums, tops cut off and seeded
500 g organic, lean ground beef
4 cloves garlic, minced
½ cup currants
2 tsp ground cumin
1 tsp ground cinnamon
2 ½ cups low-sodium vegetable juice, divided
¼ cup chopped fresh mint, plus more for garnish
1 tsp freshly grated orange zest
Salt and pepper, to taste
Method
Place capsicum upside-down in a microwave-safe round casserole dish just large enough to fit them. Add 1½ cm water to the dish and cover with a lid or inverted dinner plate. Microwave on high until the capsicum are tender but still hold their shape, three to six minutes. Drain the water and turn the capsicum right-side up.
Meanwhile, cook beef and garlic in a large non-stick skillet over medium-high heat, breaking up the beef with a wooden spoon, until no longer pink, four to six minutes. Stir in currants, cumin and cinnamon; cook for one minute. Stir in the rice and cook for 30 seconds more. Remove from the heat and stir in ½ cup vegetable juice, cup mint, orange zest, salt and pepper.
Spoon the beef mixture into the capsicum. Pour the remaining 2 cups vegetable juice into the dish and cover. Microwave on high until the juice and filling are hot, two to three minutes.
Serve the capsicum with the sauce; garnish with mint, if desired.
Recipe by Kitty Morse