Moroccan skirt steak
 with roasted capsicum couscous
Moroccan skirt steak
 with roasted capsicum couscous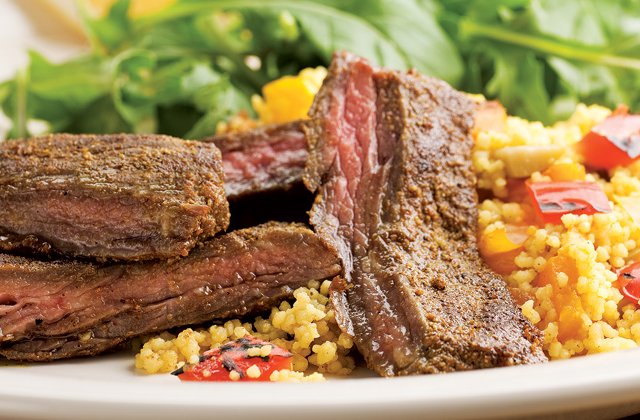 Thin cuts of beef, such as skirt steak or sirloin steak, cook very quickly when seared in a hot skillet just right for a busy weeknight. 
We love how the spicy Moroccan flavours on the steak complement the sweet, roasted capsicum-studded couscous. 
Ingredients (serves 4)
2 medium capsicums
1 tsp ground cumin
1 tsp ground coriander
½ tsp ground turmeric
½ tsp ground cinnamon
1 whole lemon, plus more lemon wedges for garnish
1 tsp plus 1 tbsp extra-virgin olive oil, divided
1⁄3 cup whole-wheat couscous
500 g organic skirt steak (see Note) or sirloin steak, 2 cm thick, trimmed
2 tbsp chopped green olives
Salt and pepper, to taste
Method
Position rack in upper third of oven; preheat grill.
Place capsicums on a baking sheet and roast under the grill, turning every five minutes, until charred and softened, 10 to 15 minutes. Transfer to a clean cutting board; when cool enough to handle, chop the capsicum into bite-size pieces.
Meanwhile, combine cumin, coriander, salt, turmeric, cinnamon and pepper in a small bowl. Grate ½ teaspoon zest from the lemon. Juice the lemon into a one cup measure and add enough water to make one cup. Pour into a small saucepan and add the lemon zest, one teaspoon of the spice mixture and one teaspoon olive oil. Bring to a boil. Stir in couscous, cover, remove from heat and let stand.
Heat the remaining one tablespoon oil in a large skillet (preferably cast-iron) over medium heat until shimmering (but not smoking). Rub the remaining spice mixture on both sides of steak.
Cook the steak two to three minutes per side for medium-rare. Let rest on the cutting board for five minutes. Stir olives and the capsicum into the couscous. Thinly slice the steak and serve with the couscous and lemon wedges, if desired.
Ingredient Note: Skirt steak is a thin, flavourful and relatively inexpensive cut of beef. Look for it in well-stocked supermarkets or ask your butcher to order it for you.
Recipe by Kitty Morse