Thai beef salad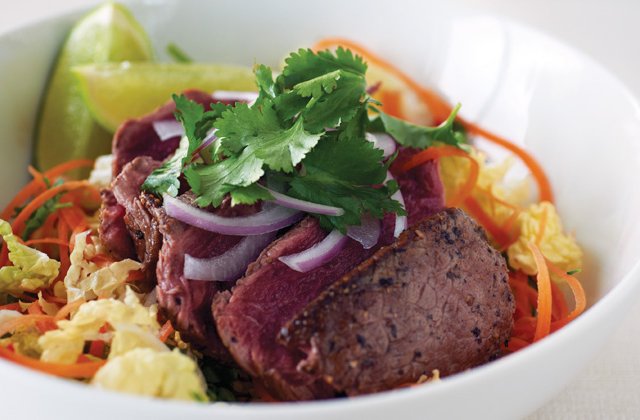 To help you feel fuller for longer and more energised, incorporate a protein-rich ingredient such as beef into your salad as we have done in this Thai beef salad.
Ingredients (serves 2)
180g beef fillet
Salt and pepper
2 cups cabbage, shredded
1 cup carrot, shredded or grated
1 tsp mint, finely chopped
2 tbs coriander, roughly chopped
¼ cup fresh lime juice
1 tsp fish sauce
1 tbs sugar
1 tsp fresh chilli, finely chopped
¼ Spanish onion, sliced
1 lime, quartered, to serve
Spray oil
Method
Heat a frypan to medium heat. Spray oil in the pan. Season the beef fillet on both sides with salt and pepper. Place the beef into the frypan and cook each side for two minutes. Remove the meat from the frypan and allow to rest for a few minutes.
Place the cabbage, carrot, mint and half of the coriander into a bowl.
In another bowl, add the lime juice, fish sauce and sugar and stir until the sugar dissolves. Pour over the salad and top with the chopped chilli.