Watermelon Gazpacho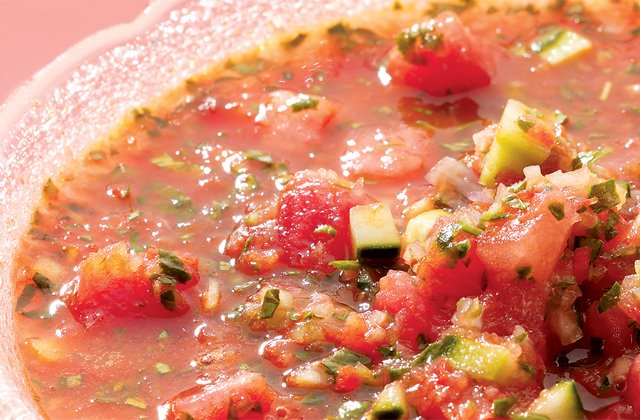 The delicate flavours of cucumber and watermelon go hand in hand to create a sweet-and-savoury chilled soup, perfect as a first course.
Ingredients
8 cups finely diced seedless watermelon (about 3 kg with the rind) (see Tip)
1 medium cucumber, peeled, seeded and finely diced
½ red capsicum, finely diced
¼ cup chopped fresh basil
¼ cup chopped flat-leaf parsley
3 tbsp red-wine vinegar
2 tbsp minced shallot
2 tbsp extra-virgin olive oil
Pinch of salt
Method
Mix watermelon, cucumber, capsicum, basil, parsley, vinegar, shallot, oil and salt in a large bowl. Purée three cups of the mixture in a blender or food processor to the desired smoothness; transfer to another large bowl. Puree another three cups and add to the bowl. Stir in the remaining diced mixture.
Serve at room temperature or chilled.
Recipe Tips & Notes:
Melon selection & storage: Look for symmetrical unblemished melons, without flat sides, that have a creamy yellow spot on the bottom indicating ripeness. At 92 per cent water, this fruit should feel heavy when you heft it. Pre-cut melon flesh should be dense, firm and appear moist. Store in the refrigerator for up to a week or keep in a cool, dark spot. Cover the cut surface of melon with plastic wrap and refrigerate.