Miso soup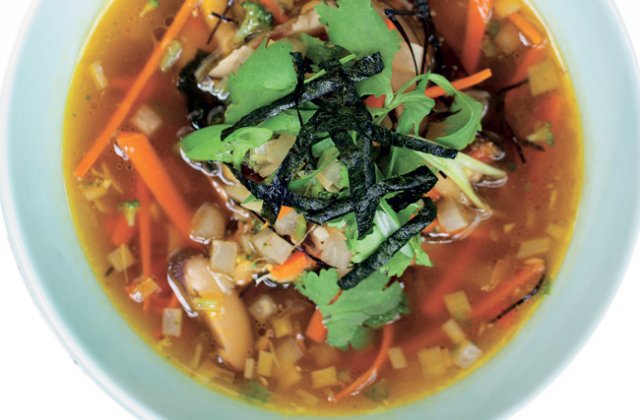 Janella Purcell shares one of her favourite recipes, suitable for diabetics and the prevention of type 2 diabetes.
Ingredients (serves 4)
1 leek, white part only, sliced
1 tbsp olive oil
1 tbsp grated fresh ginger
1 garlic clove, crushed
1 tbsp chopped coriander stems
1 carrot, julienned
½ cup julienned white radish (daikon)
1 cup broccoli florets and stems
2 cups filtered water
2 sachets vegan dashi, or 1 litre vegetable stock
1 stick of kombu (kelp, if available at Asian grocers and supermarkets)
4 shiitake mushrooms, sliced
1 tbsp tamari
1 tsp sesame oil
¼ cup miso (shiro or genmai)
200 g silken tofu, sliced into eight pieces
2 spring onions, thinly sliced
1 cup coriander leaves
¼ sheet of nori, cut into thin strips
Method
Sauté the leek in the oil in a saucepan over medium heat, then stir in the ginger, garlic and coriander stems. Sauté until soft.
Add the carrot, white radish and broccoli stems and stir to coat. Add the water, dashi or stock, kombu and mushrooms. Simmer for seven minutes until the vegies are tender. Turn down the heat and stir in the broccoli florets, tamari and sesame oil. Finally, stir though the miso paste until dissolved, then turn off the heat. Do not boil, as boiling kills the live enzymes in miso.
To serve, ladle the soup into four serving bowls, add the tofu and garnish with the spring onions, coriander leaves and nori (if using).
Browse more soup recipes>>