Fresh tagliatelle with smoked trout and basil
Fresh tagliatelle with smoked trout and basil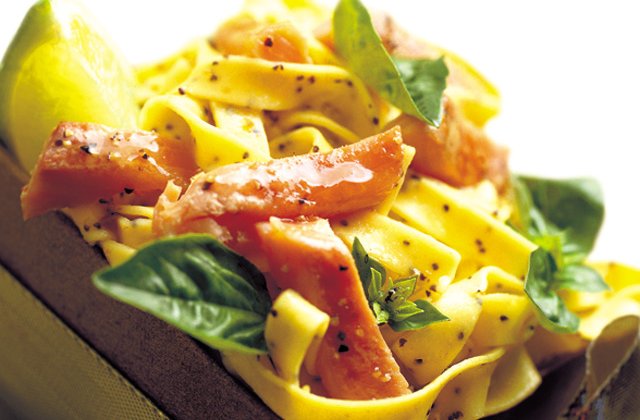 Looking for easy pasta recipes? Try fresh tagliatelle with smoked trout and basil.
Ingredients (serves 4)
50g of fresh pasta
150g of smoked trout
2 tablespoons coriander leaves, chopped
2 tablespoons fresh basil leaves, chopped
Fresh lime for garnish
Dressing
1 clove garlic, minced
1 tablespoon of fish sauce
100ml of fresh lime juice
100ml brown rice vinegar
2 tablespoons cold pressed peanut oil
25g palm sugar, crushed
Method
Cook pasta in plenty of boiling water. Drain, refresh and allow to thoroughly cool (chill if desired).
Slice smoked trout into strips and combine with basil and coriander. Combine all dressing ingredients together and pour over cooled pasta. Add trout mixture and toss well before serving.