Wasabi beef steaks with mushroom rice salad
Wasabi beef steaks with mushroom rice salad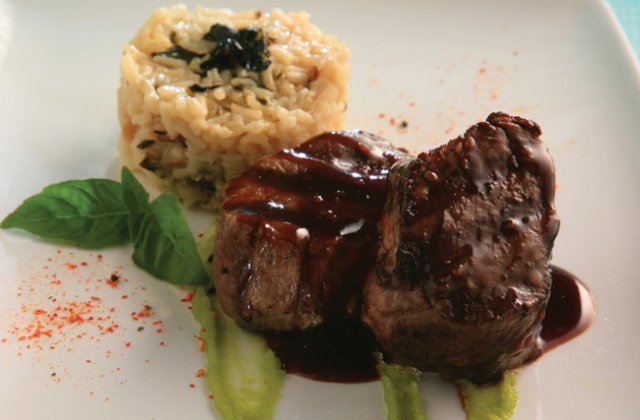 4 thick-cut organic steaks
3 tsp S&B wasabi in tube
4 tbsp Yeo's light soy sauce
1 tsp garlic, minced
½ cup Morita teriyaki sauce
• 1½ cup Japanese sushi rice
¼ cup Jade Phoenix sliced shitake mushrooms
40 g Hikari red miso paste
Method
Pre-heat oven to 150°C. Combine the wasabi, light soy, garlic and teriyaki sauce in a non-metallic bowl, marinate for several hours, or overnight.
Combine the instant miso soup with three cups of water and bring to the boil, add the rice and mushrooms to the pot and bring to the boil, stirring. Cook for 12 minutes until rice is tender. Drain and set aside.
Pre-heat a griddle pan over a medium heat for two minutes and cook steak, two minutes on each side, then transfer steak to the pre-heated oven to cook for a further five minutes. Rest two minutes prior to serving.
Wipe a small amount of wasabi in the centre of each plate, place a mould of rice salad onto each plate and arrange.
Place sliced steak over the wasabi
 and serve.