Hungarian apple soup (gluten-free)
Hungarian apple soup (gluten-free)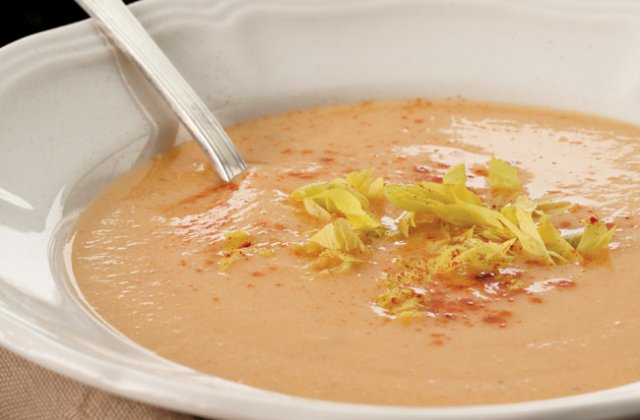 This savoury apple soup for two gets body from potatoes and a touch of heat from paprika. Float some cocktail prawns or crabmeat in each bowl to make it a main course.
Ingredients (serves 2)
2 tsp olive oil
1 medium tart apple, peeled and finely chopped
¾ cup diced peeled potato
1⁄3 cup finely chopped onion
¼ cup thinly sliced celery, plus leaves for garnish
¼ tsp salt
¼ tsp dried sage
Pinch of paprika, preferably hot Hungarian
Freshly ground pepper to taste
400 ml reduced-salt chicken stock
3 tbsp reduced-fat sour cream
Method
Heat oil in a medium saucepan over medium heat. Add apple, potato, onion and celery; cook, stirring often, until the onion is translucent, about five minutes. Stir in salt, sage, paprika and pepper; cook for 30 seconds. Pour in stock and bring to a simmer. Reduce heat, cover, and gently simmer until the potato is tender when pierced with a fork, 10 to 15 minutes.
Transfer the soup to a large blender or food processor, add sour cream and process until smooth. Garnish with celery leaves, if desired.
Quick Tip: To make eight soup croutons: Slice one-fourth of a whole-grain baguette into eight slices two-cm thick. Melt one tablespoon of butter; lightly brush on both sides of each slice. Place the slices on a baking sheet. Bake at 180°C until the edges are crisp and golden brown, 10 to 20 minutes, keeping an eye on them so they don't burn.
Browse more healthy soup recipes>>