Going green: Give a Fork! 2016
Going green: Give a Fork! 2016
Because we're all #grexy.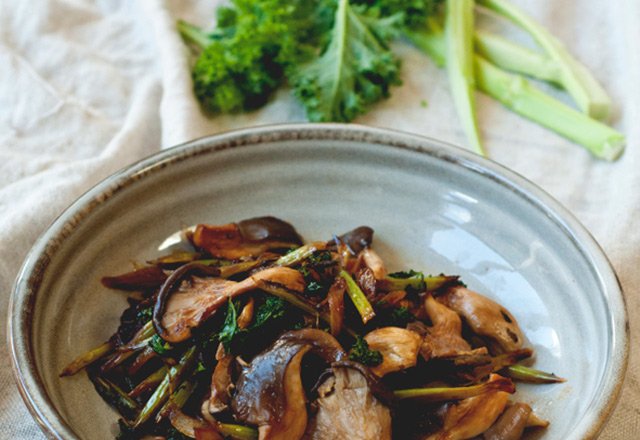 Throughout the month of April the Give a Fork! Campaign is spreading the good green news and awareness about the environmental impacts our food and waste has on the planet.
Did you know that the typical Australian produces about 1.2kg of garbage a day? Think of this way, the average person, weighing 75 kg produces their weight in trash every two months.
To help you reduce your environmental footprint, Sustainable Table founder and sustainability expert, Cassie Duncan has a few simple, yet effective tips to make use of your scraps in the kitchen.
More is best
If a recipe uses a particular part of an animal (e.g. chicken breast), opt to buy and use the whole thing instead. This helps to stretch the meal further and the carcass can make a delicious stock for a risotto or soup. This also works for fish, which holds its texture and flavour really well when cooked whole. Spend more up-front but get WAY more meals out of it, while eliminating food waste.
It's all in the lamb
At around $6-7 per kilo, 'off-cut' lamb pieces like lamb necks and forequarter pieces tick a lot of boxes. They are tasty, kind on the budget and because they are off-cuts, buying them helps reduce waste. Like all cheap cuts, they need a little extra cooking but the flavour makes it worth it. If you don't see them on display, ask your farmers' market producer or butcher.
There's more to kale than you know
Kale is the trendy vegetable of the era, but what about those stems? You normally throw them out, compost them or reserve them for stock, don't you? They can actually be eaten, and they're quite versatile to boot. Just like most stems, they take a little longer to cook than the leaves but they take to robust flavours well and impart a lovely texture and flavour to dishes. 

Get creative with your jars
Reuse old jars to store leftover meals in the fridge and freezer, as a takeaway coffee cup or to purchase things such as grains, legumes and nuts from bulk food stores rather than using plastic bags. Barista's love it as it's just like a latte glass, and the screw-on lid makes the jar completely leak proof.
Ditch the vegetable peeler
Don't bother peeling your vegetables - many peels are edible and in fact contain much of the nutritional content of vegetables. The skins of pumpkin, beetroot, potatoes and carrots are all edible. Don't throw out your carrot tops. Or celery leaves, beetroot leaves and so on for that matter. You can lightly steam or fry them, add them into a salad or create a delicious pesto.
Repurpose your eggshells

Crush eggshells and use them in the garden. This helps to keep snails off, and the shells leach calcium into the soil as they break down, which is good for both the soil and plants.
Ways to get involved
Sustainable Table have coined the term #grexy to a sexy or appealing person who is also a greenie as taking care of our planet is way sexier than trashing it. There are two ways to get involved: dine at one of their participating restaurants around the country where a portion of the process will go to the Sustainable Table's Education and Awareness Program OR take on one of the three #grexy challenges.
Visit the offical website for more information.