Hot plate: Frankie's Top Shop
Hot plate: Frankie's Top Shop
20 Cowderoy St, St Kilda West, VIC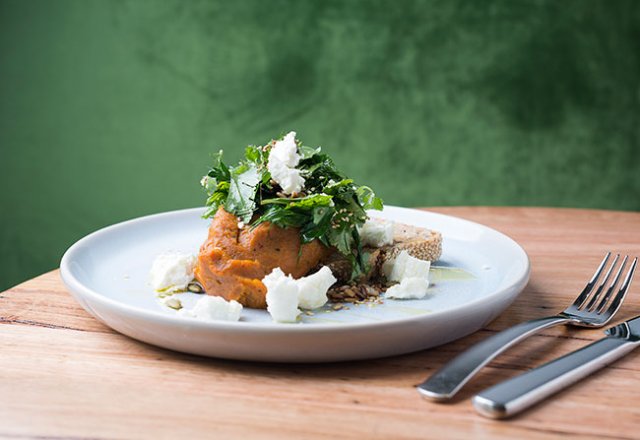 We chat to renowned food writer turned proud café owner Michele Curtis about the inspiration behind her first solo venture.
Can you tell us a little bit about yourself and how you became involved in the food-writing and hospitality industry?
I've always loved cooking and come from a strong family background of seeking quality produce, cooking and sharing food. Food writing happened by default, when I had children I was offered the opportunity to write for the Sunday Age and that led to writing a couple of books, which suited my lifestyle at the time.
Do you have a 'food philosophy'? If so, how would you describe it?
Simplicity and seasonality. Using good produce is important, cook it simply and it will taste amazing. Seasonal food always tastes better because the quality is at its best.
Frankie's Top Shop is your first 'solo operation' – have you owned or operated other venues before?
I've operated several other businesses in the past, the last one was a joint venture called the Food Smith in Hampton.
The name of the shop has an interesting story behind it. Can you tell us a little bit about Frank and Top Shop in Byron Bay?
The building used to be a milk bar, owned by Frank for over 20 years. I wanted to keep a link to the past and the neighborhood. Top Shop in Byron Bay is a magical place, probably because I'm on holiday when I'm there, but it had a great vibe and clean healthy food.
Your vision was 'part café, part corner store, part milk bar'. Does Frankie's Top Shop's look and menu reflect this vision? If so, how?
The outside is pretty much unchanged from its days as a milk bar, it's a beautiful old red brick building, the milk bar part is not classic milk bar, but in our case a display fridge full of healthy salads, take away food, sandwiches and meals, kind of like a lolly counter for adults. The café is the core of the business, great Dukes coffee, free-range eggs, amazing breakfasts, quality service and fresh lunches.
What are some of the best-selling (or recommended) items on your menu?
My personal favourite is the roasted sweet potato and turmeric mash with seeds, feta and a poached egg. Best-selling items include the folded eggs with mushrooms and parmesan, and the buttermilk pancakes. Initially we served these with figs, but we've just swapped to banana as the season has changed. The brioche French toast with poached rhubarb is very popular too.
There's plenty of healthy food on your menu. Was it important to include healthier options such as salads and smoothie bowls, along with comfort favourites such as pies, burgers and sandwiches?
Yes. For me it's all about balance, I think being in the food industry you have an obligation to encourage people to eat healthy food. The comfort food is just as important though, it provides more of a mental health benefit, whereas green smoothies and salads are more physical.
For more information, visit frankiestopshop.com.au and follow @frankiestopshop.