Hot plate: Luke Southwood of bistro Dom
Hot plate: Luke Southwood of bistro Dom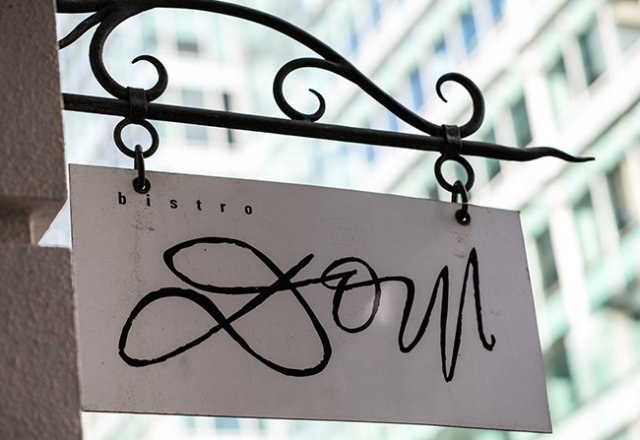 Luke Southwood's culinary career has seen him go from Barcelona to one of Australia's most exclusive health retreats in Byron Bay. Now Southwood has taken them helm at Adelaide's iconic bistro Dom – a little slice of Europe in the CBD. We spoke to him about his career, food as medicine and making kefir bread.
Can you tell me a little bit about your background and about Bistro Dom?
I've been doing this for a very long time. I started out my career as a young man in Barcelona. This was in the '80s, pre-Olympics, before Spain was really on the culinary map. The food of that region is so grounded in classical traditional ideas and concepts and techniques. The real grounding of my training and the evolution of my career has very much been about the food there; that tradition that I'm very passionate about continuing. I'm really trying to instil that value and that kind of connection to the food to everyone in my team and conversely hope that the customers feel a bit of that when they come in and dine at Bistro Dom.
[Bistro Dom] it is an amazing little place. It is an iconic Australian restaurant, but the most incredible thing I think about it is when you step off the street you leave Adelaide and you're immersed in this authentic European bistro where you could be in Budapest or Barcelona or Paris or London. It's not just about the venue, it's not just about the food, it's not just about the reputation. It's also about the energy of the place for me.
Prior to working at Bistro Dom you spent nearly a decade working in Byron Bay, including at The Sanctuary Byron Bay. Can you tell us about this experience?
[The Sanctuary is] counted as being the world's most exclusive rehab and it is essentially a rehabilitation program, and a huge part of their program is the food. It is our most fundamental and most ancient reward system and, even when you are at rock bottom, the one thing that you can still have a connection with, get excited about and have a fond memory of is food.
Before The Sanctuary I was running Dish restaurant and the Raw Bar in Byron Bay – an extremely full-on job. One of the things that The Sanctuary would do is take their clients out for a meal to take them out and get them into the real world. One of their favourite restaurants was Dish, so I forged a friendship with [the founder] during the period, and as soon as I finished up at Dish and looked around at what I wanted to do, the first people I called was The Sanctuary, because it really intrigued me. Each menu is tailored for what that person is specifically going through, and the transformation that I actually saw in people – people arriving absolutely broken and seeing what a bit of nurturing and nourishment [could do] – was incredible. I spent about four years at The Sanctuary. The only reason I stopped working there was because I was involved in a car accident that stopped me from working.
So how did you come to be at Bistro Dom?
My partner got pregnant, I've got an elder daughter who lives in Adelaide and it was time for a change. So we moved back to South Australia. Duncan Welgemoed [now of Africola fame], who was the previous chef of Bistro Dom, he called me personally and said, "Luke, I'm leaving and this place is built for you – would you like to take the reins?" At the time the babies had just been born and I didn't want to commit to such a huge project. A couple of years passed and earlier this year I heard on the grapevine that Shane, who was the chef that took over from Duncan, was leaving and they were looking for someone to step in and take the reins. I reached the point where I was ready to do that again.
Can you tell us a little bit about how the menu has evolved with your help?
There was no question that we needed to take a brand new direction. Restaurants tend to reinvent themselves fairly regularly. In this day and age novelty is something people want. I have a very unique and specific skill set I think in regards to my background and my training and my time in Spain. I think part of my menu design is incorporating and introducing these [functional] ingredients all the way through the menu. I've always known about the medicinal properties of kefir; the kefir in the bread for example is one of the strongest, most powerful probiotics known on the planet.
For bookings and more information on Bistro Dom, visit their full website and follow @bistrodom.