7 healthy comfort eating tips
7 healthy comfort eating tips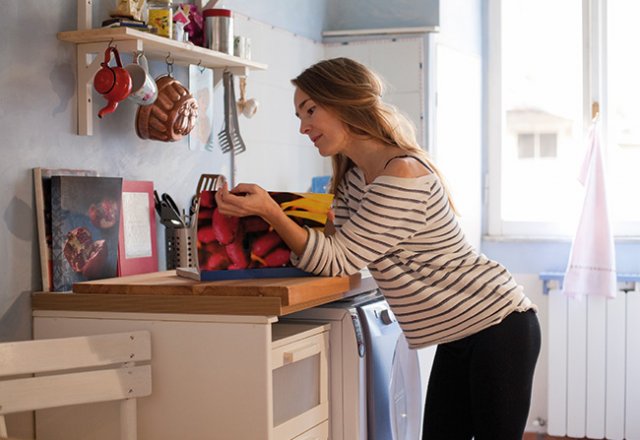 Before you head for the hearty, unhealthy meals, Linda Moon shares seven ways to make food your best friend, the healthy way.
1. Salads aren't just for summer
Chilled salads can be unappealing in winter. Warm them up and add heartiness with roasted vegetables such as pumpkin, beetroot and sweet potato, and steamed asparagus and beans. Toss with baby spinach, rocket or kale. Add protein and substance without turning to meat with quinoa, buckwheat, goat's cheese, feta and legumes, combined with satisfying and healthy fats from avocado, nuts and seeds. Favour homemade dressings made with lemon juice, balsamic, cider vinegar and quality cold-pressed oils over commercial preparations. Freshen with citrus, pear, apple or persimmon and be liberal with garlic and fresh herbs for their anti-microbial qualities.
2. Super soups
From soothing miso broths to hearty casseroles, soups are the quintessential comfort food and provide easily assimilated nutrients and warmth. Incorporate barley, lentils, split peas, dried beans and vegies for bulk, and go easy on the cream and the side of buttered toast. Add freshness with sprouts and herbs, boost the immune system with reishi or shiitake mushrooms (a 2015 study by the University of Florida found that around 100 grams of shiitake mushrooms per day could improve immunity) and try buckwheat and sweet potato noodles or dumplings for additional heart and soul.
3. Spice is nice
Chilli can produce thermogenesis (heat production) and clear the sinuses, and is the main feature of curries all over the world. Try spicy curries with brown rice or quinoa. Using a curry paste rather than a pre-made sauce is ideal, and Asian you can trade cream for coconut milk, low-fat yoghurt or tomato. There are many great vegetarian curries out there too, and many incorporate the warming, antimicrobial benefits of spices such as cinnamon, ginger, cumin and others.
4. Ways with potatoes
A mainstay of winter, the versatile spud can be transformed into shepherd's pie, hash browns, rosti, mash, wedges and soup and is a good source of fibre and potassium. For a healthy option, use sweet potatoes, which are high in vitamin C and thiamine, as well as lower GI than their white counterparts. However, some potato cultivars like Carisma and Nicola are also low GI. Alternatively, serve with a garlic-based vinaigrette – vinegar reduces the GI of starch-based meals. You can also forgo the butter and dry bake with rosemary and a little spray of olive oil. For whole baked spuds, skip the sour cream in favour of hummus, avocado or salsa; and for a lighter version of mash, combine with a little steamed cauliflower or peas.
5. Eat more fish
It can be easy to overload on red meat when things such as bangers and mash, roasts and spaghetti bolognese start to appeal. But for a satisfying swap, trade roast meat for baked fatty fish such as salmon, mackerel and tuna. Rich in omega-3, vitamin D and B12 and reminiscent of summer, fish may help to fight against seasonal blues.
6. Pasta: spiralise and substitute
Prevent the carb coma with vegie spaghetti noodles made of squash, zucchini or carrot. Or, if you're not down to swap out pasta completely, opt for wholegrain options that will keep you sated for longer. Add substance to your pasta sauces with eggplant, legumes or meatballs made of beef, nuts and/or tofu. Nutritional yeast makes a great, healthy and vegan parmesan substitute.
7. Not-so-decadent desserts
Dessert doesn't have to come laden with fat and sugar. Try nut-based crumbles and baked or stewed fruits. Replace cream with whipped silken tofu (trust me, you'll love it), coconut cream or soy custard. You can also swap out refined sugars for rapadura sugar, rice malt or maple syrups and honey, and add natural no-sugar sweetness with spices such as cinnamon or vanilla.
Image by: Kathrin-Ziegler