Banana waffles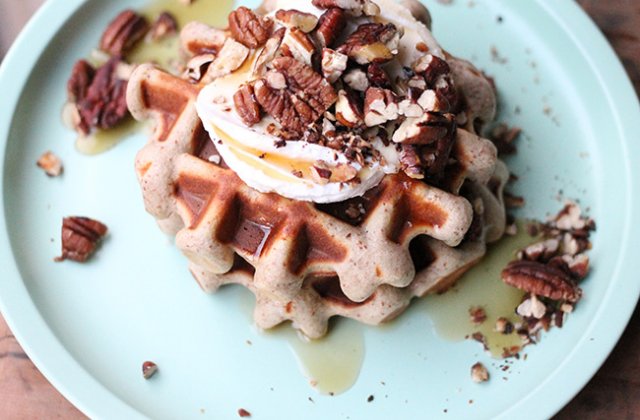 Get creative in the kitchen with the kids with these easy and tasty banana waffles.
As a mum and a food blogger of Nourish Me Mum, Ashley Collins, believes healthy eating is just as important for adults as it is for kids. Here, she shares a fun waffle recipe she loves making at home.
These clean ingredient waffles are banana flavoured with a great texture and are of course gluten and dairy free. They are also nut free! Often gluten-free versions of recipes are nut based, so this is a bonus! This is a thick batter and works very well with the vegan flax egg option also. Perfect with nut butter or maple syrup, these freeze well to re-heat for breakfast on the go.
Ingredients (Makes 6)
150 g mashed banana (approximately 1 large banana)
1 tbsp maple syrup
1 tbsp macadamia oil or melted coconut oil
1 tsp vanilla extract
2 free-range organic eggs (or 2 prepared flax eggs)
1 cup buckwheat flour
¼ tsp baking soda
Pinch of sea salt
2 tbsp almond milk
1 tbsp teff seeds or chia seeds, optional
Method
Preheat your waffle maker to a medium heat. In a small bowl mash banana. Add maple syrup, oil, vanilla extract and eggs. Whisk well.
In a large bowl mix buckwheat flour, baking soda and salt. Add wet to dry and mix well. Slowly add almond milk, folding in a little at a time. Pour ¼ cup of mixture onto the waffle iron to make six small waffles.
Recipes and food photography: Ashley Collins
Grab the October 2016 edition of nourish magazine for the full interview and more kid-friendly recipes today.
NEXT: Struggling to come up with dinner ideas the kids will love? Try these vegetarian nachos for Mexican night!