Black bean crust pizza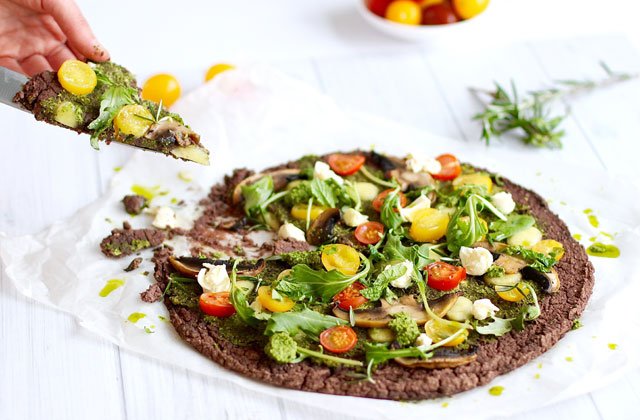 Black is the new green, see it for yourself with this healthy pizza!
Ingredients (serves 4)
For The Base
2 cans black beans, rinsed and drained

1 tbsp black chia seeds

2 tbsp ground flax seed

3 tbsp nutritional yeast

2 tsp garlic powder

2 tsp cayenne pepper

1 tsp sea salt
For The Topping
1 large mushroom, thinly sliced

¼ cup basil pesto

¼ cup bocconcini

½ cup heirloom tomatoes, halved

½ cup rocket

1 sprig fresh rosemary
Method
Preheat oven to 180°C and line a large baking sheet with parchment paper.
Mix together 1⁄3 cup water with the chia seeds and ground flax, and let it sit for 10 minutes until thick and gelatinous. In a food processor, add the beans, flax and chia mix, nutritional yeast, garlic, salt and cayenne. Blend until smooth. Spread mixture onto the parchment paper in the shape of a pizza crust, until about half an inch thick.
Bake for 25 minutes then carefully flip the crust to bake on the underside for 15 minutes. Lightly sauté mushrooms until soft. Remove crust from the oven and top with pesto, bocconcini, mushrooms and tomatoes, then bake for 5 to 10 minutes until the cheese has just melted.
Top with fresh rocket and rosemary.
Recipe by: Sally O'Neil, The Fit Foodie.
NEXT: Mexican for breakfast? Try the breakfast quesadillas with black beans, spinach and mushrooms!