Salmon with creamy chive mash
Salmon with creamy chive mash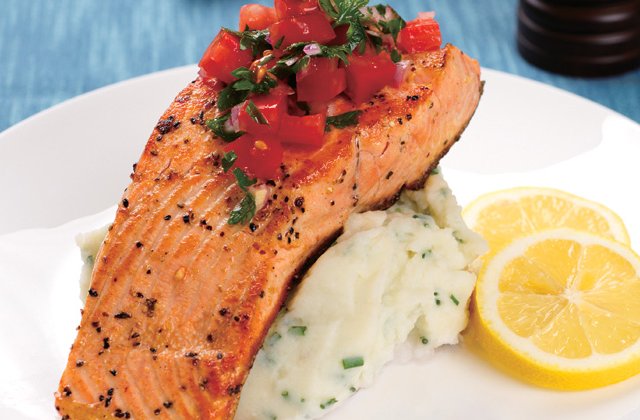 Packed full of omega-3 fatty acids, salmon is a great mid-week meal.
Ingredients (serves 2)
Mash
4 potatoes, peeled and diced
125ml skim milk
6 peppercorns
1 clove garlic
1 bay leaf
2 tbs chives, finely chopped
Salmon and salsa
2 salmon fillets (100g each)
1 tsp lemon pepper seasoning
1 tomato, finely diced
½ red onion, finely diced
Juice of 1 lemon
2 tbs coriander, finely chopped
1 red chilli, deseeded and
finely diced
tsp olive oil
Method
Place the potatoes in a saucepan of boiling water on medium heat for 10 minutes or until cooked. In a separate saucepan, warm the milk, peppercorns, garlic and bay leaf over a low heat and simmer for five minutes.
Drain the potatoes and mash with a masher or ricer. Strain the milk mixture into a cup. Pour half the milk mixture over the mash and slowly add the remainder as required for a smooth and creamy mash. Add the chives and stir through the mash. Place a small portion of mash on a plate.
Sprinkle the lemon pepper seasoning over each side of the salmon fillet. Heat a non-stick frypan to a medium heat. Spray the pan lightly with oil. Place the salmon skin-side down and cook for one minute. Turn over and cook for an additional 3-4 minutes.
Place the salmon on top of the mash. Place the tomato, red onion, lemon juice, coriander and chilli into a bowl and mix thoroughly. Place a small amount of salsa on top of the fish.