Banh Mi (Vietnamese pork baguette)
Banh Mi (Vietnamese pork baguette)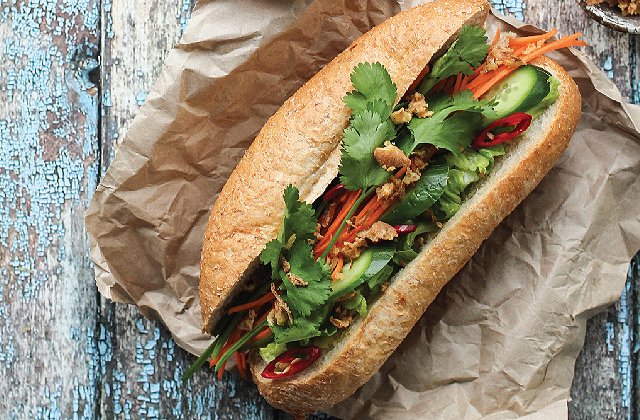 Banh mi is one of the most well-known Vietnamese dishes and many Vietnamese bakeries also sell these deliciously fresh salad rolls.
Chicken or various pork cold cuts make for a tasty variation for meat eaters. While butter, mayonnaise or pate is used to spread on the bun, I've omitted these here – feel free to add them if you wish. Also, instead of a white baguette, I've opted for a wholemeal variety. Fried shallots are available from some supermarkets and most Asian grocers.
Ingredients (Serves 2)
2 wholemeal baguette rolls
1 small carrot, julienned
1 tsp fish sauce (use ½ tsp salt for a vegan version)
1 tsp lime juice
1 baby cos lettuce, shredded
1 Lebanese cucumber, sliced finely
½ red onion, sliced finely, optional
1 sprig spring onion, green parts only
A few single stalks fresh coriander
1 red long chilli, sliced finely
For a chicken or pork version
1 cup shredded chicken meat, or leftover finely sliced roast pork
To serve:
2 tsp tamari
Sriracha sauce, optional
2 tsp fried shallots
Method
Cut each roll open lengthways without splitting it in half.
Place julienned carrot in a small bowl, add fish sauce or salt and lime juice. Allow the mixture to pickle for a few minutes.
To make banh mi, layer lettuce, cucumber slices, onion if using, pickled carrot, spring onion and coriander sprigs in each roll. Top with meats, if using.
Drizzle tamari and Sriracha over the top, and sprinkle both rolls with fried shallots.
Recipe and images from Martyna Angells