Raw chocolate raspberry brownie bites
Raw chocolate raspberry brownie bites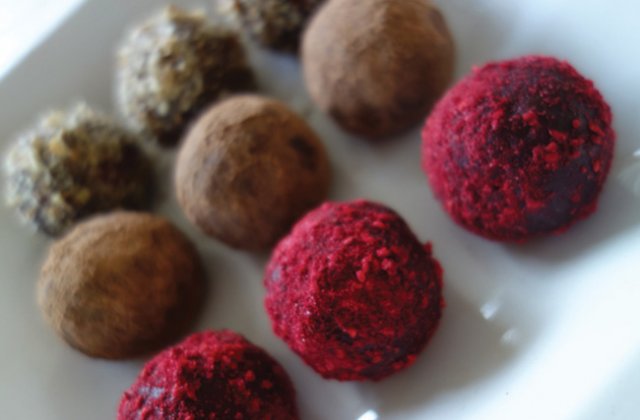 These raw chocolate brownie bites are made from raspberries, maca, cacao and chopped nuts.
Ingredients
3 cups mixed pecans and walnuts
1 cup medjool dates, chopped
2 tsp coconut oil, warmed until liquid
¾ cup cacao powder
2 tsp vanilla extract
½ tsp cinnamon
Pinch sea salt
1 tsp maca powder
4 tsp dark raw agave syrup or sweetener of your choice
4 tsp freeze dried raspberries (or goji berries) + extra chopped berries for rolling in
Method
Place nuts in processor and combine until they are a meal-like consistency. Add rest of ingredients except raspberries, and process until sticky.
Add raspberries and pulse until just broken up. Roll into balls and freeze for two hours. When ready to serve, roll in extra chopped freeze-dried raspberries, maca, cacao or chopped nuts.
Browse more raw chocolate desserts or join our foodie community on Facebook!
Recipe from Easy Raw Food Recipes to get you Started.