Mucver (dill & zucchini fritters)
Mucver (dill & zucchini fritters)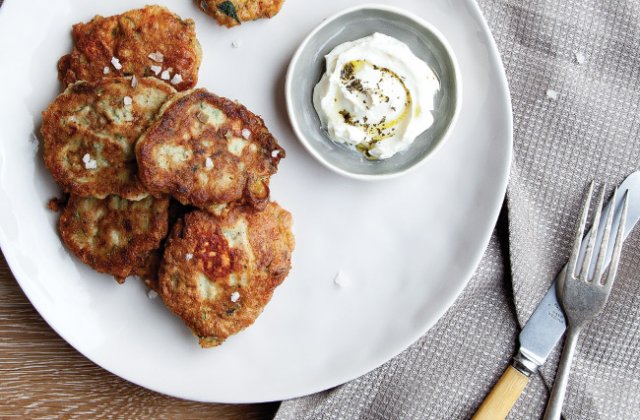 With both Mediterranean and Oriental influences, Turkish food is bursting with new and exciting flavours. We love these super simple Turkish fritters.
Ingredients (serves 5)
2 zuchinnis, grated
1 brown onion, grated
3 eggs
1 tsp bicarb soda
1 tsp lemon juice
1 tsp salt
½ tsp cracked black pepper
½ tsp red pepper
½ bunch dill
¼ bunch mint
1 cup white spelt flour
1 tbsp rice bran oil

METHOD
Place all ingredients (except oil) into a bowl and stir, adding in more flour one tablespoon at a time if needed.
Heat a non stick fry pan, and heat the rice bran oil over a low-medium heat. Place one dessert spoon of mixture at a time to create small pancakes. Flip after two minutes or once golden. Remove and set aside. Keep cooking the mucver until all mixture has been used.
Eat immediately or store in an airtight container for up to five days in the fridge.
Serve with yoghurt or labneh, peppers and olives.
Recipes and images by Kate Bradley
NEXT: Turkish salad